Source :
Zigong Global Geopark, China
Published :
April 13, 2016
At the beginning of April 2016, 33 primary school pupils from Lions Clubs International Ho Tak Sum Primary School of Hong Kong visited Zigong Global Geopark, and participated school activities with Zigong Lvsheng Experimental School. This year the event has been listed by Ministry of Culture, P.R.China as one of the 15 important exchange projects among China's mainland and Hong Kong and Macao.
During the several days, Zigong students guided their partners to experience their campus life, to do dinosaur curettes together. And the geopark staffs also led them to important geosites and historical cultural attractions. Students got close contact with dinosaurs' fossils, and were so excited to have dinosaur souvenirs. They were so curious about China's ancient well-salt industry and tried hard to learn everything within the Geopark.

Dinosaur meets art

Close contact with dinosaurs' fossils Dinosaur souvenirs

Eager to learn salt history Taste salt brine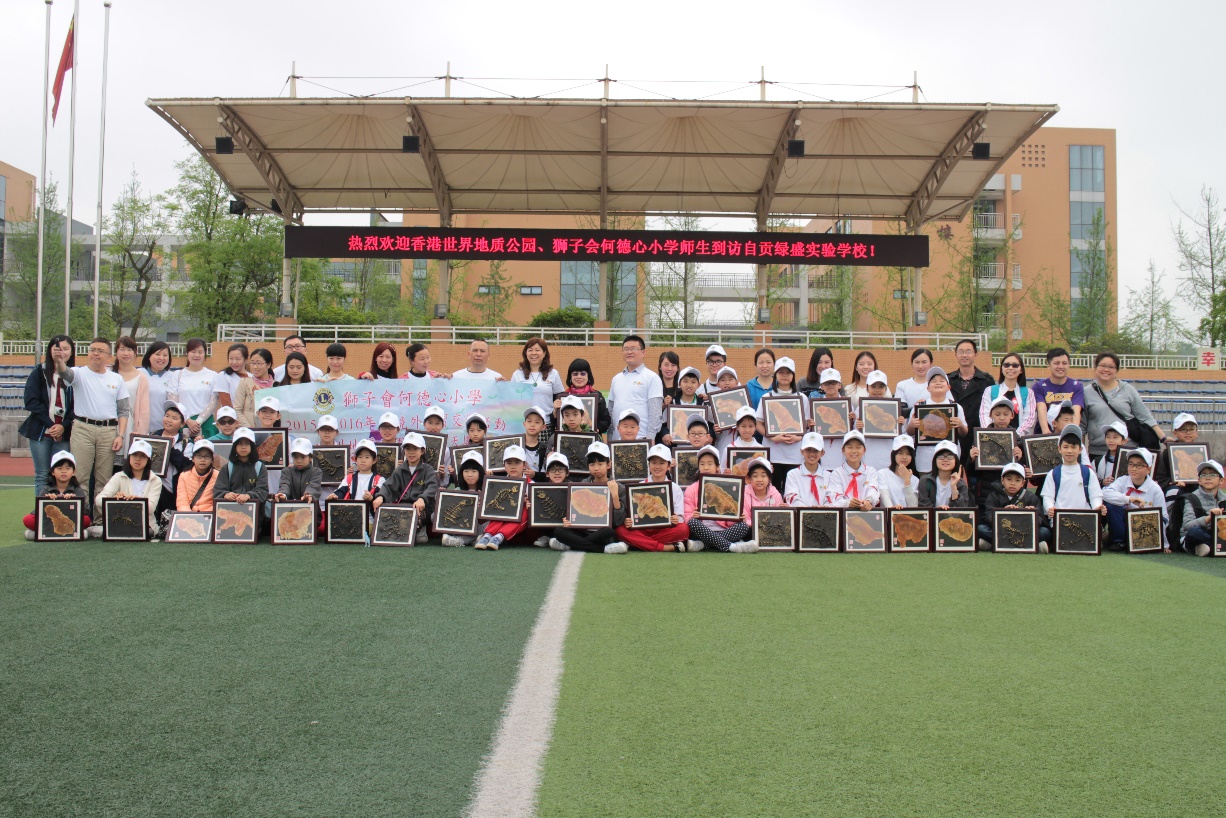 Group Photos
Actually, series of these activities have been carried out since 2014 when Zigong Geopark and Hong Kong Geopark initiated a new partnership to promote student exchange, aiming to help teachers and students of Zigong and Hong Kong be interested in earth science and historical culture of both geoparks, as well as develop friendship with each other and encourage cooperation between geopark schools. Then in September, 6 students and 3 teachers from Zigong Lvsheng Experimental School visited Hong Kong Global Geopark, and welcomed by teachers and students of Catholic Ming Yuen Secondary School, Hong Kong.
In June-July 2015, 40 senior students from Hong Kong Kau Yan College also visited Zigong Global Geopark, and were hosted by teachers and students of Zigong Shuguang High School. Nearly 100 students of both Zigong and Hong Kong were led by staffs of Zigong Geopark to visit Geopark Square, Dinosaur Museum, Salt History Museum, and enjoy Sichuan Opera. They learned about dinosaurs, ancient well-salt making technologies, traditional Chinese cultures.
Nowadays, it is an effective way to take advantage of the Global Geoaprks Network to encourage science education and student exchange, and the partnership between geoparks can afford students opportunities to know geological knowledge and phenomenon of other places, to experience different culture and history, to make friends all around the world. Zigong and Hong Kong Geoparks will continue the cooperation and promote further student exchange for future.