Source :
Hongkong Geopark of China
Published :
April 29, 2016
The Geoscience Capacity-Building Programme 2016, designed to promote science popularisation in Mainland China and Hong Kong and to develop high-calibre geoscience talent, was successfully hosted in Hong Kong, China, from 10 to 14 April 2016. The event was co-organised by the General Office of the Land and Resources Science Popularisation Centre and Hong Kong UNESCO Global Geopark (HKGP), with strong support from the Department of Science and Technology & International Cooperation of the Ministry of Land and Resources (MLR) and the Agriculture, Fisheries and Conservation Department of Hong Kong.
The training programme was developed around the theme "innovating the science-popularisation concepts and enhancing science-popularisation capacity" and was attended by more than 30 managerial grade representatives from MLR science-popularisation offices and HKGP. Deputy Director-General Wen Bo of the Department of Science and Technology & International Cooperation, MLR, delivered the opening address at the launch ceremony. This was followed by a keynote speech — "Embrace new concepts: Better ways to disseminate science knowledge" — presented by Deputy Curator Liu Shuchen of The Geological Museum of China. The presentation broadened the participants' vision and horizons, and inspired awareness and inquiry. During the programme, representatives of the MLR science-popularisation offices shared their experience and highlights of their work, and had extensive discussions with their counterparts about issues and difficulties related to their work.
Programme members also shared insights with key officers of Hong Kong Ocean Park, the Hong Kong Science Museum, the HKNGCA Science Innovation Centre, the Lions Nature Education Centre Geo-hub, the Hong Kong Geopark Volcano Discovery Centre and other Hong Kong geopark partners, and took part in diverse, interesting, fun-packed science-popularisation activities. The members also visited HKGP, where they learned about the planning and design concept of the geopark and exchanged views on the lucid and interesting strategies of popularising science knowledge.
The programme strengthened cooperation and exchange between Hong Kong and the Mainland on the subject of geoscience popularisation. All the participants said that they benefited greatly from the training and that Hong Kong's efforts and strategies for science popularisation were very enlightening to science-popularisation practitioners in the Mainland. They said they hoped the programme would become an ongoing effort to enhance the capacity and overall standard of geoscience popularisation.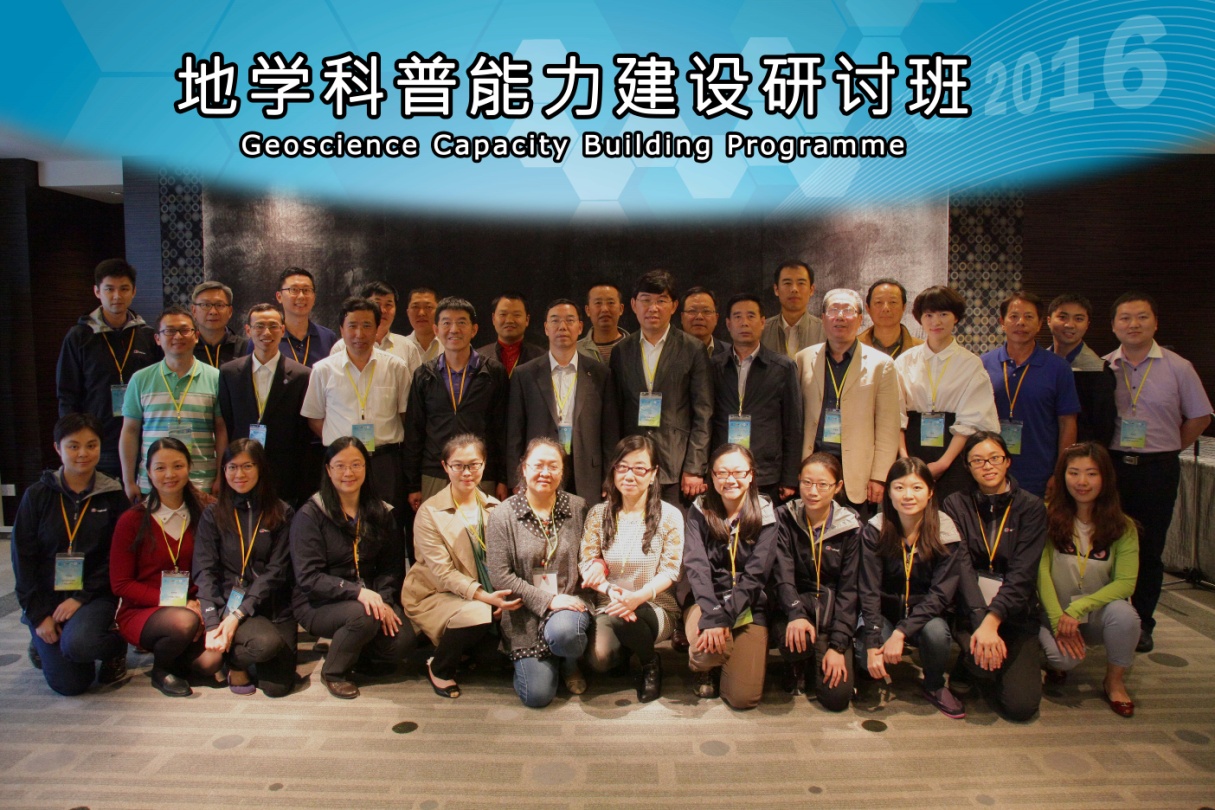 Group photo of programme participants
The representatives visit science-popularisation facilities in Hong Kong and take part in science-popularisation activities in the Rock Classroom