Source :
Itoigawa UNESCO Global Geopark, Japan
Published :
August 4, 2016
Expanding Networks in Eastern Asia from Niigata, Japan
The Itoigawa UNESCO Global Geopark, located in the Japanese Prefecture of Niigata, is in close proximity to two Japanese National Geoparks—Sado Island and Naeba-Sanroku. On July 27th and 28th, these three Geoparks partnered with the Prefecture of Niigata in order to host the Geoparks Niigata International Forum in Niigata City, Japan.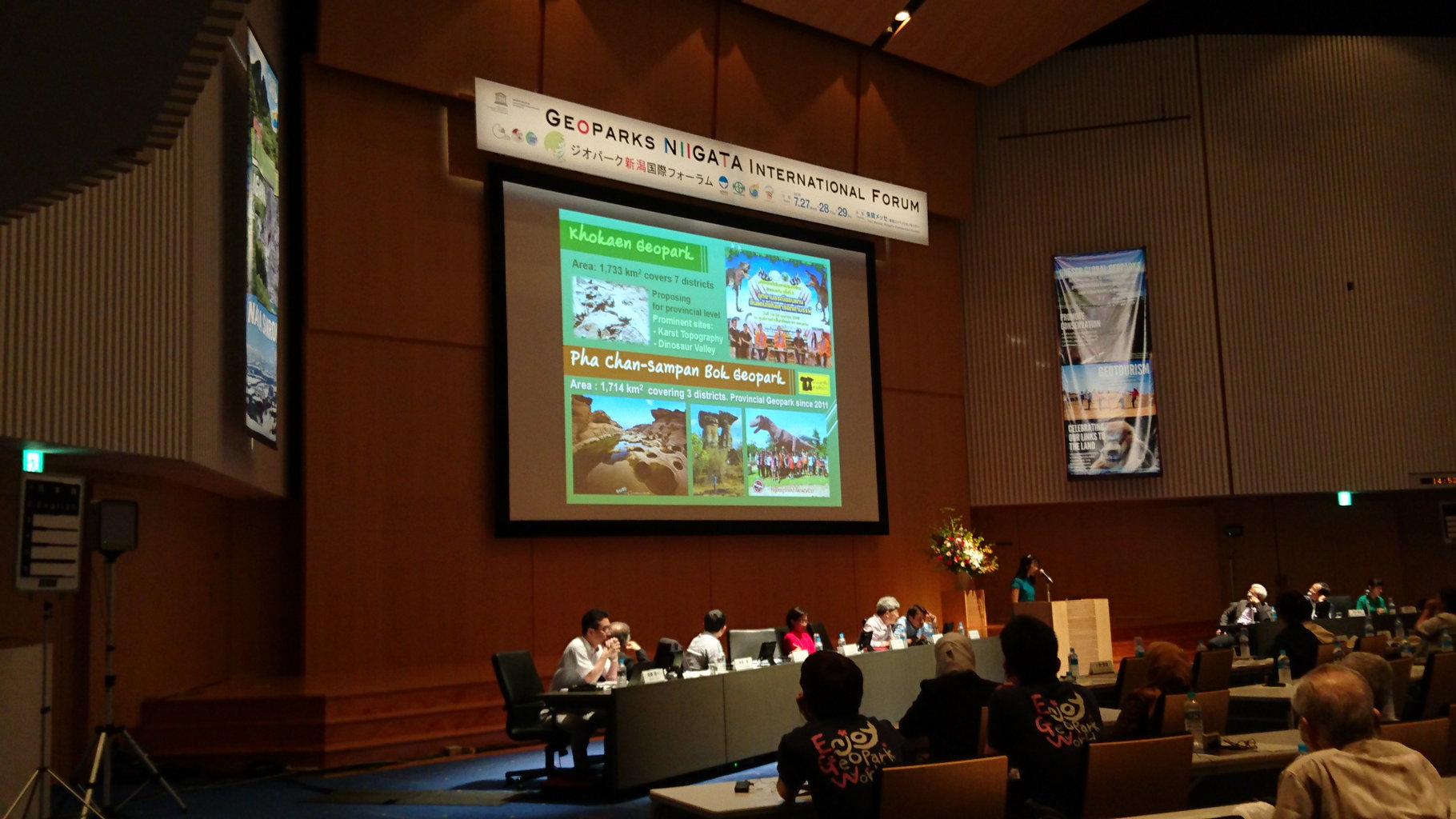 A representative from Thailand presents on Geopark Activities there
This forum brought together representatives from around Eastern Asia, including guests from China, Korea, Malaysia, Mongolia, the Philippines, Russia, Thailand, Vietnam and Japan as well as from UNESCO. During the first day of the Forum, the guests gave presentations on the nature of geopark activities and networking within their respective countries. The first day, held in a workshop format, encouraged audience participation as guests and attendees alike discussed the strengths and weaknesses of Geopark networks in Eastern Asia.
A panel discussion concluded the two day forum
The second day of the Forum featured three keynote speakers, Dr. Atsushi Matsuoka of Niigata University, Dr. Eugenia Bugdaeva of the Far East Branch of the Russian Academy of Science, and Dr. Patrick J McKeever, Chief of Section of the UNESCO Section on Earth Sciences and Geo-Hazards Risk Reduction and IGGP Secretary. These three speakers joined other Geopark presenters, as well as special guests from Mongolia and Russia, in a panel discussion about Geoparks, their networks in Eastern Asia and the possibility of establishing Geoparks in their respective countries. Through the Geoparks Niigata International Forum, our shared goal is to increase awareness of Geopark activities throughout Asia and revitalize and empower networks not only among its many Geoparks, but among its numerous aspiring regions. These goals were outlined in a Forum Declaration to be shared on the forum's website at a later date. (http://www.city.itoigawa.lg.jp/geopark-forum/en/index.html)
Following the forum, attendees took part in one of two excursions, either to Sado Island Geopark or Itoigawa UNESCO Global Geopark. Visitors to Itoigawa explored the story of the world's oldest jadeworking culture, born along a plate boundary.
Attendees visit the Kotakigawa Jade Gorge Geosite in Itoigawa UNESCO Global Geopark