Source :
Hong Kong UNESCO Global Geopark, China
Published :
September 6, 2016
Since its designation, Hong Kong Geopark has established partnerships with academic institutes, research institutes and museums both in Hong Kong and overseas. Making inroads in furthering collaboration with local universities this year, Hong Kong Geopark is offering internships to full-time undergraduate students of the Department of Earth Sciences, University of Hong Kong. Response to this programme was overwhelming and the number of applicants exceeded expectations. 14 students were finally selected as the first group of Hong Kong Geopark interns.
During the summer holidays, successful applicants worked in shifts at Hong Kong Geopark's visitor centres and two geoheritage centres. They received a series of training in the process, learning the geopark concept, geological connotations of the geopark, tour guide skills, visitor services, administration and management, while carrying out practical work duties that include handling visitor enquiries, guide service, and managing daily operations of the centres. Field trips were also arranged for students to visit major geosites of the geopark.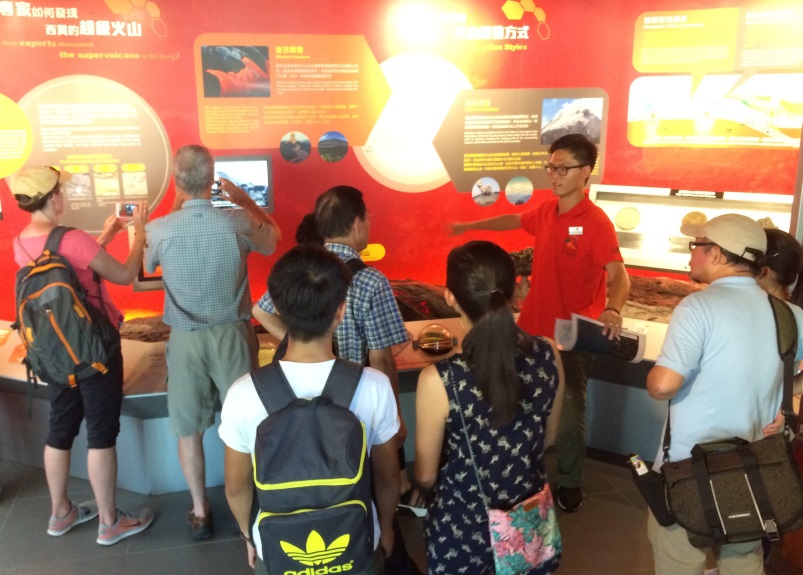 Students who took part indicated they have benefited a great deal from this programme. Not only was there professional knowledge to acquire and apply, they were also exposed to many other branches of knowledge, such as Hong Kong's ecology, heritage and cultural customs, which enriched their general understanding of Hong Kong. A student Miss Leung said it was an unforgettable experience that broadened her horizons. She has come to appreciate the importance of sustainable development and environmental protection. These knowledge and experience are highly instrumental to their future learning or career after graduation.