Source :
Muroto UNESCO Global Geopark, Japan
Published :
April 1, 2017
Japan's Ministry of the Environment announced the eleven winners (selected from 51 applicants) of the 12th Ecotourism Awards. This award system aims to reward and publicize ecotourism efforts by businesses, organizations and municipalities. Japan's Ministry of the Environment started this award in 2005 in order to improve ecotourism activities in Japan, and to build up a sense of solidarity between related parties through information exchange.
The Muroto City Tourist Guide Association won the special prize of the 12th Ecotourism Awards this year. Their continuing activities, such as establishing sustainable geo-tours, and activating the whole local area by cooperating with the local government, were rated very highly.
The association was founded in 2009 by local residents soon after the Muroto Geopark became one of the first Japanese National Geopark in 2008. This guide association, one of the 3 geopark guide organizations in the Muroto UGG, mainly operates guided tours at the Cape Muroto site. Geopark guides are available all year round, and while booking in advance is recommended, it is often possible to join on the day. Considering that in the past there were no guided tours taking place even at the most popular site, Cape Muroto, the association has really come a long way. In 2015, there were nearly 10,000 visitors joined the guided tour at the Cape Muroto site.
The Muroto City Tourist Guide Association is a very active group that meets every Saturday, to improve their skills through information sharing and study. In 2016, an English conversation class which runs twice a week was commenced, and is contributing to the development of an international mindset among members of the geopark. The guides also play a very important role regarding site conservation. The guides go around Cape Muroto on a daily basis, which means that they can contact the managing authority to promptly deal with any issues that may arise.
3 delegates participated in the award ceremony held at the office of the Ministry of the Environment in Tokyo on February 15, 2017 and joined the group discussion with other award winners and exchanged information.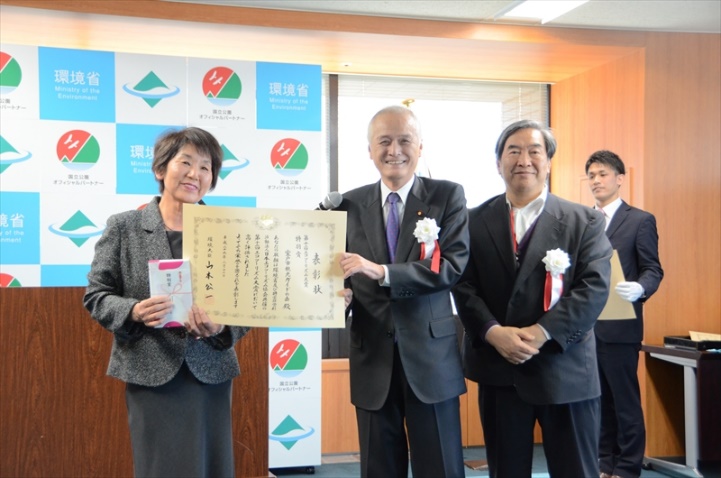 The secretary general of the association awarded by the minister of environment
On March 12, the association held an event to celebrate the award and shared information regarding the award ceremony and discussions with other members of the associations and local people. On March 26, the special tours"Cape Walk" program celebrating the award were also held and the guides enjoyed and shared their joy with the visitors from many different parts of Japan.
Reporting about the award ceremony at the event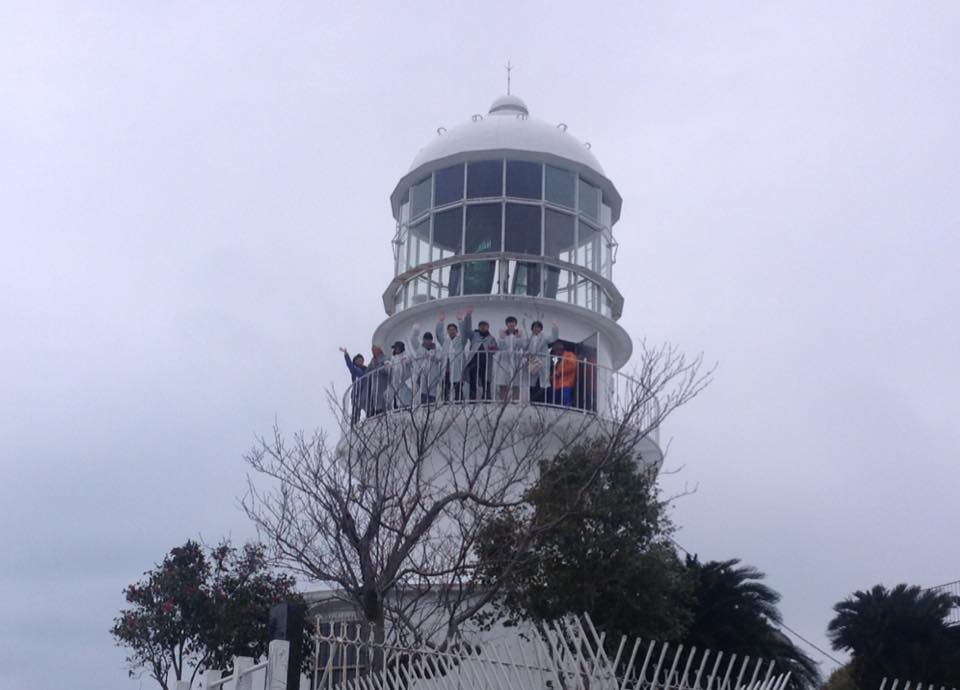 Special tours celebrating the award were conducted in March