Source :
Jeju Island Geopark, Korea
Published :
August 2, 2017
Jeju Island was designated as a Global Geopark in 2010, the first in Korea to be designated as a Global Geopark. The whole island is the Geopark, but there are a total of 12 representative attractions on the island. Currently, four of the 12 geological sites have geotrails.
Among them, the Suwolbong Geopark Trail was first created in Jeju Island in 2011, along the coast of the Suwolbong Tuff Ring.
Suwolbong is one of numerous volcanic cones and craters in Jeju Island. However, the outcrops of the volcanic deposits exposed along the coastal cliffs to the south have outstanding scientific values. Suwolbong is part of a tuff ring that was deposited mainly by a unique pyroclastic process, called pyroclastic surge, which is a turbulent and swift flow of a mixture of tephra, volcanic gases and steam moving along the ground surface like a desert sandstorm. The continuous outcrops of the volcanic deposits along the coastal cliffs of Suwolbong are recognized as the best exposure of pyroclastic surge deposits in the world.
Hardly was the trail known at the time of its creation in 2011. It, however, has been used for geological field courses for a number of students. The course includes diverse ecological, historical and cultural elements of the Tuff Ring as well as the geological heritage such as the cross section, columnar joints, and volcanic bombs. In recent years, an average of 300,000 people has visited this trail. There are currently 12 Geopark interpreters, consisting of local residents, who guide the visitors in the Suwolbong geosite.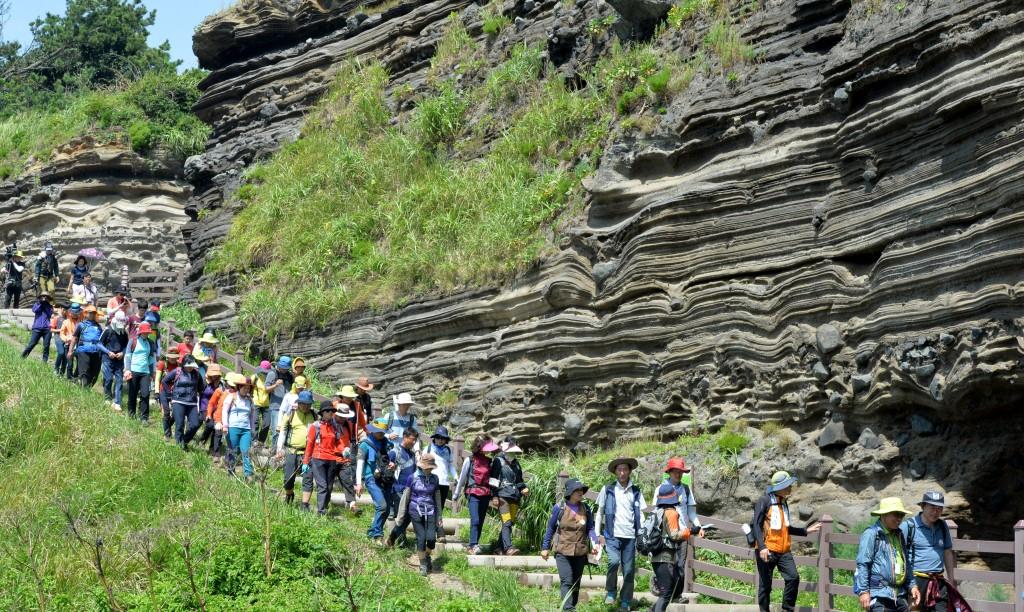 The 7th Suwolbong Geopark Trail event was held from July 29 to August 11, 2017. During the event, the local residents participated in a variety of activities. The women's association provided free lunches, and elementary school students also sang in chorus. Local residents also exhibited various traditional performances for visitors. During this period, Most tour programs run by experts were fully booked within a day after the start of the reservation.
The Jeju Island Geopark Team is planning to expand the Geopark trails every year, and the geotrails contribute to wide publicity of the Geopark.