To benefit the local community through the promotion of responsible and sustainable geo-tourism, Hong Kong UNESCO Global Geopark (HKUGGp), in collaboration with the Environmental Association, provided capacity building opportunities for the local community in Tai Po, training villagers to engage them in the long-term development of the geopark and their community. A total of 24 participants completed the training and are now ready to provide local guided tours on the Ma Shi Chau Nature Trail.
Concurrent with the successful completion of the capacity building programme was the official reopening of the Tai Po Geoheritage Centre after its latest enhancements. To mark this major milestone and to celebrate the graduation of the villagers in their capacity building journey, a graduation and centre reopening ceremony was held on 31 October.
Officiating guests at the ceremony included Mr Wong Kam-sing, Secretary for the Environment; the Hon Cheung Hok-ming, Chairman of the Tai Po District Council; Ms. Wong Pik-kiu, Vice-chairman of the Tai Po District Council; Mr. Shek Kwong-yin, Village Representative of Sam Mun Tsai New Village; Mr. Chan Kai-sing, Village Representative of Ap Chau Village; Mr. Chan Ka-chun, Founder of Hong Kong Discovery; Mr. Tam King-wah, CEO of the Sai Kung District Community Centre; Dr. Yau Wing-kwong, CEO of the Environment Association; and Mr. Patrick Lai, Assistant Director (Country and Marine Parks) of the Agriculture Fisheries and Conservation Department.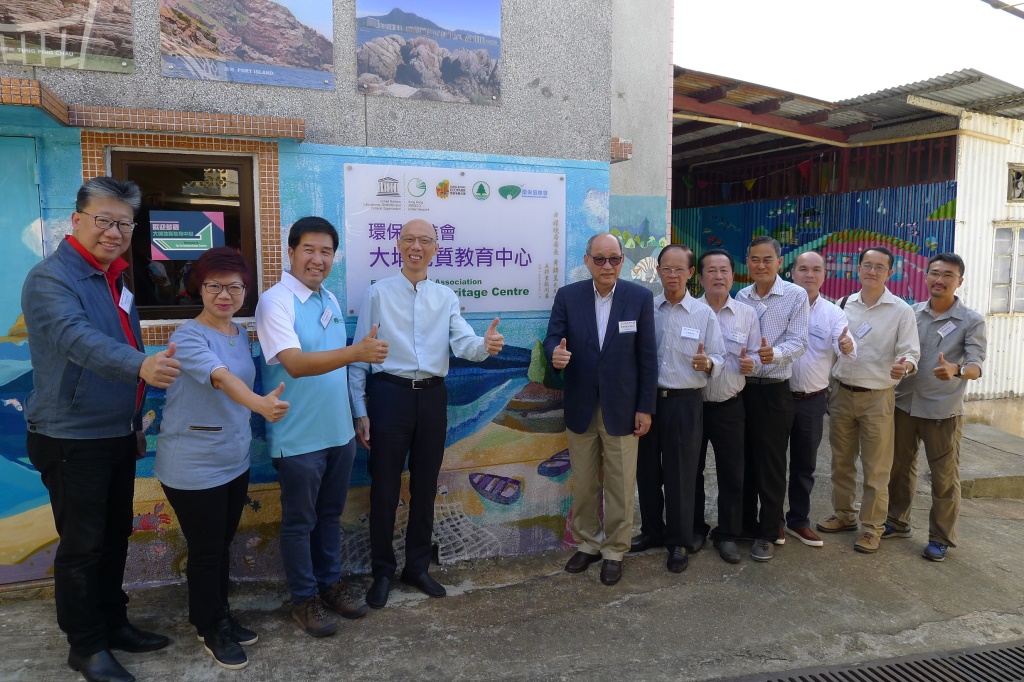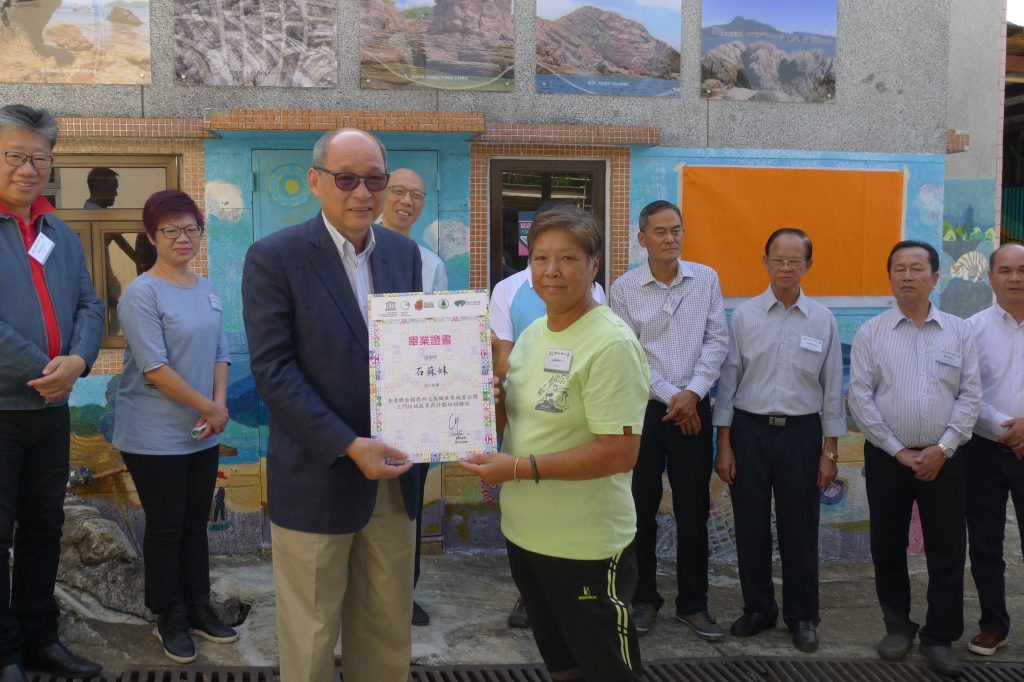 Escorted by the trained villagers and the young managers of the Tai Po Geoheritage Centre, the guests were briefed on the cultural heritage of Sam Mun Tsai New Village and the enhanced exhibits in HKUGGp.
"Geoparks is not just about rocks. They are also about people and how they value their natural and cultural heritage. We have been pleased to witness the long-term collaboration among geopark partners since 2009 and to be part of this local engagement effort." said Mr Wong Kam-sing. "May I invite you all to join me in the promotion of sustainable development in the remote countryside and green tourism throughout Hong Kong."
"The geopark concept has provided new ideas and momentum for the development of Sam Mun Tsai New Village. The capacity building programme and the enhanced Tai Po Geoheritage Centre have not only improved infrastructural support in HKUGGp, but also provided a valuable platform for interested members of the local community to participate in geopark activities" said Mr. Shek Kwong-yin. "We hope our collaboration with the HKUGGp team and other geopark partners will continue in the coming years."