Source :
Hong Kong UNESCO Global Geopark, China
Published :
January 12, 2018
According to the UNESCO Global Geopark (UGG) concept, a co-management and participatory approach should be adopted in the establishment and management of a UGG. Like many other partners of Hong Kong UNESCO Global Geopark (HKUGGp), the Geopark Hotels are committed to promoting sustainable geo-tourism and delivering high quality visitor services and products that help promote geopark branding.
For instance, the Geopark Hotels have a new "Explore Lai Chi Wo" package, which features a stay in a geo-themed room at one of the hotels, a tasty Geolicious menu, and a guided geo-tour to Lai Chi Wo, a 300-year-old Hakka village, while their "Sai Kung High Island Geo-trail" package will take you on an enchanted journey to an ancient caldera and a close-up experience with the geopark's world-unique hexagonal rock columns.
From now until March 2018, visitors can sign up for one of these packages or pick up a new self-guided tour map, prepared by and available at the Geopark Hotels, for an enjoyable exploration of HKUGGp.
http://www.lhotelgroup.com/CMSPages/GetAzureFile.aspx?path=~\l_hotel\media\images\lis\offers\lhotel_geopark_location_map.pdf&hash=7ef6bfa64f0e11ecda04cbf4c672aa8435acf66399413a6213e53f8b32460bb0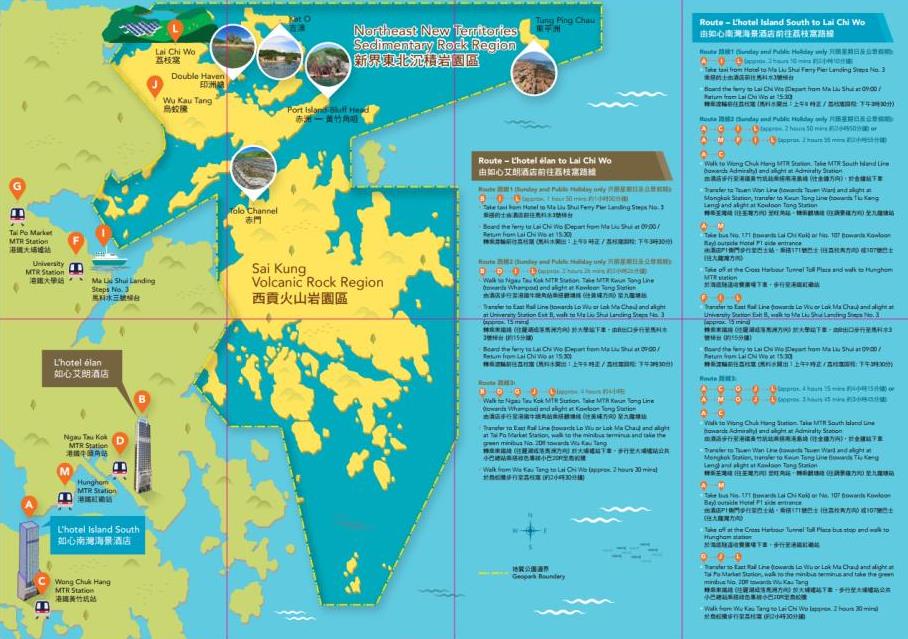 The Geopark Hotels, L'hotel Island South and L'hotel élan become partners of HKUGGp in 2010. The lobby and selected rooms of the hotels are decorated with a geopark theme. Geopark videos are broadcast in the hotel lobby and on a dedicated in-room TV channel. The hotels also have a specially-designed geopark menu to help promote geo-conservation and geopark guided tours.
For more details on the Geopark Hotels, please visit:
http://www.geopark.gov.hk/en_s4b.htm