Source :
Itoigawa UNESCO Global Geopark, Japan
Published :
November 30, 2018
This November, 16 students from Hong Kong's Marymount Primary School visited the Itoigawa UNESCO Global Geopark on a mission of exchange and Geopark study.
Students Arrive at Itoigawa Station via the Hokuriku Shinkansen
After their arrival, the students visited the Fossa Magna Museum, where they learned about the natural history of the Itoigawa region that formed along the Itoigawa-Shizuoka Tectonic Line which splits Japan between East and West; the Chojagahara Archaeological Museum, where they learned about the world's oldest jadeworking culture which developed in the Itoigawa region.
Visiting the Fossa Magna Museum (L) and the Chojagahara Archaeological Museum (R)
The students took their newfound knowledge to the field as well, visiting the Kotakigawa Jade Gorge to learn more about Itoigawa's jade and how it formed. They also visited the Fossa Magna Park, where an exposed section of the Itoigawa-Shizuoka Tectonic Line can be inspected up close, showcasing the different kinds of rocks found on either side.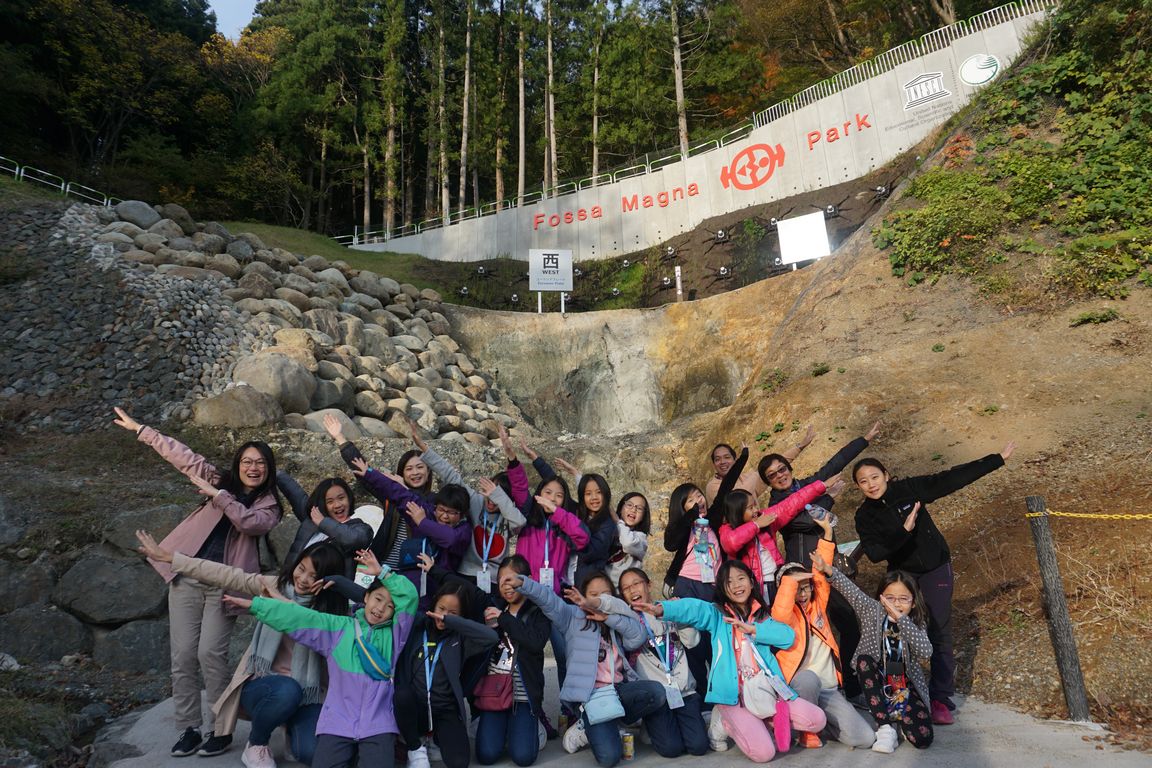 Learning at Kotakigawa Jade Gorge (L) and Fossa Magna Park (R)
On the last day of their visit, the children from Hong Kong were joined by local students from Itoigawa's Oumi Jr. High School. The students engaged in cultural exchange and icebreaking activities in the morning, followed by visits to the Oyashirazu Coast, where they learned together about the history of these imposing cliffs, once called the "Most Dangerous Place in the North." Along the rocky shore below, the students collected stones which they identified with the help of Geopark Guides.
Cultural Exchange (U), Oyashirazu Cliffs (L) and Stone Collecting (R)
The Hong Kong and Itoigawa Geoparks officially began their sister relationship in 2009, meaning the students of Marymount Primary School are arriving just as we enter the tenth year of this special relationship. To commemorate the occasion, a special ceremony was held in the auditorium of Oumi Jr. High School. Students from both schools gave presentations about their respective geoparks and representatives of Itoigawa and Hong Kong gave commemorative addresses.
10th Anniversary Ceremony at Itoigawa's Oumi Jr. High School
The sister geopark program between Hong Kong and Itoigawa UNESCO Global Geoparks allows for a deeper and more meaningful level of exchange and understanding not only for Geopark staff, but our respective communities and even the Regional and Global Geopark Networks. Especially important is the exchange among children of our Geoparks, which promotes intercultural understanding, global awareness, and interest in the Geoparks they call home. It is our hope that this close relationship continues to develop and that more Geoparks around the world consider Sister Geopark Agreements as a tool for greater network cooperation and exchange.