The UNESCO Global Geopark family is set to convene this week, 4-10 September, in Marrakesh, Morocco. This meeting marks the return to face-to-face gatherings, post-pandemic, as well as the first International Geopark Conference to be held in Africa. This is a significant step that aligns with UNESCO's strategic focus on Africa, and the move to develop more geoparks across the African continent.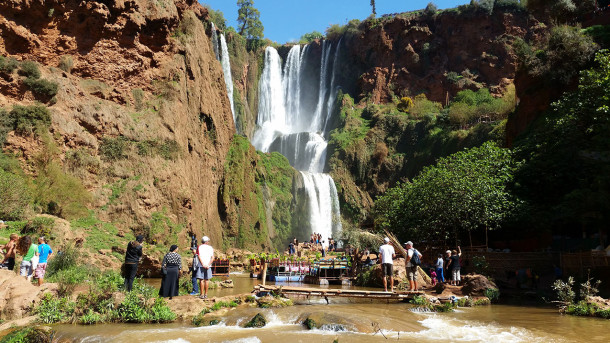 Shutterstock.com
8th UNESCO Global Geopark Council
The week will open with the annual UNESCO Global Geopark Council meeting, on 4-5 September. The Council plays a pivotal role in the geopark lifecycle; they evaluate new and deferred UNESCO Global Geopark applications, consider zone changes for existing geoparks, and put forward advice to the Director-General of UNESCO on the network's strategic evolution.
During this session, the Council will review:
17 new applications from prospective Geoparks

4 deferred application

34 requests to revalidate existing geoparks

3 proposals for zone modifications within existing geoparks
Metha Yangsanong
10th International Conference on UNESCO Global Geoparks
The 10 th International Conference on UNESCO Global Geoparks will start on Thursday 7 September, and will welcome over 1,000 participants from more than 50 countries. Held every two years, this is the most important gathering for individuals and organisations involved in geoparks, offering a unique opportunity to share discoveries and best practices.
The Conference will kick off with an Opening Ceremony, featuring speeches from Lidia Brito, Assistant Director-General for Natural Sciences at UNESCO, Dr. Nikolaos K. Zouros, President of the Global Geoparks Network and Eric Falt, Regional Director at the UNESCO Office for the Maghreb. Thematic workshops will commence in the afternoon, and continue over the course of three days. Attendees will engage in sessions focused around nine thematic areas:
Geodiversity and biodiversity management: studies, protection, and popularization

Conservation and valorization of geological heritage sites

Education with simplification of scientific knowledge accessible to the general public

Sustainable tourism and local development

Geoparks and implementation of sustainable development goals

Geoparks, tangible and intangible cultural heritage

Climate change, combating desertification and natural disasters

Sharing of experiences and cooperation between geoparks

Aspiring Geoparks
Other highlights from the conference include a visit to the international exhibition on UNESCO Global Geoparks (7 September) and a Field Trip (10-11 September) offering participants the opportunity to discover the many geological wonders of the M'Goun UNESCO Global Geopark, with geological formations dating back to the Triassic period.
"The geopark offers exceptional tourism sites, including the Ouzoud Falls, the Imi-n-Ifri Arch Formation, the rock engravings of Tizi N'tterghist, and a group of historic kasbahs and communal granaries. "
Eric Falt, Director of the UNESCO Rabat Office Quote from 'Géoparc de M'Goun, au plus près de la terre', TELQUEL, 18 August 2023 (translated from French)
The second edition of the Global Geopark Network Film festival presents an impressive 39 entries this year. Voting will take place on 7 and 8 September, and three awardees will be announced on 9September.
The Closing Ceremony will include speeches, presentations of GGN Certificates, and awards. The highly-anticipated unveiling of the host for the 11th UNESCO Global Geopark Conference is sure to be a pivotal moment: there are currently four candidates, Araripe UNESCO Global Geopark (Brazil), Hantangang UNESCO Global Geopark (Republic of Korea), Kütralkura UNESCO Global Geopark (Chile) and Langkawi UNESCO Global Geopark (Malaysia). The ceremony will conclude with a gala dinner.
Summary
The 8 th UNESCO Global Geopark Council and the 10 th International Conference on UNESCO Global Geoparks look to be important gatherings, offering the full range of geopark stakeholders an invaluable opportunity to share knowledge and forge partnerships.
Stay tuned for the latest updates and outcomes from the Council Meeting and Conference on UNESCO's website and their Earth Science social media accounts (@earthscience).