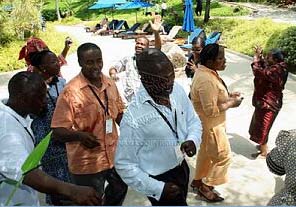 Delegates attending the Langkawi International Dialogue (LID) 2007
taking a break by performing their traditional dance (photo by BERNAMA)
The Langkawi Development Authority (Lada) is aggressively promoting this popular resort island - now branded as Langkawi Geopark - since the Langkawi International Dialogue (LID) 2007 which is aimed at eradicating poverty.

Lada public relations officer Ramizi Hassan said various information on the uniqueness of the island have been disseminated to the heads of state and government and about 500 people from 40 countries participating in the three-day LID.

"Many foreign delegates to the LID have shown interest in knowing more about Langkawi Geopark," he told Bernama.

Langkawi, an archipelago of 99 tropical islands off the northeastern coast of Peninsular Malaysia, has some of the world's most pristine rainforests, limestone and karst formations, caves with stunning stalactites and stalagmites, and beautiful beaches washed by clear emerald water teeming with marine life.

Last June 1, it received recognition from the United Nations Educational, Scientific and Cultural Organisation (UNESCO) as the first geopark in Southeast Asia.

Langkawi is the 52nd geopark listed in the UNESCO Global Network of Geoparks(GGN members).

Ramizi said the island, with a total area of 478 sq km, has drawn the attention of geologists worldwide for having 550-year-old geological areas. So far, over 90 geological study sites have been registered here.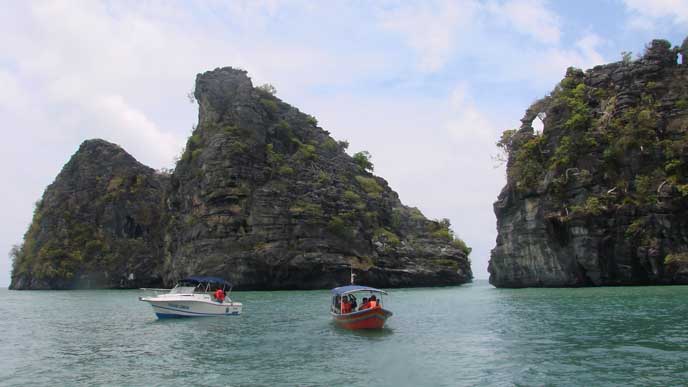 Langkawi Geopark (photo by Zhao Xun)

Lada has allocated RM16.9 million to promote Langkawi Geopark with the hope of doubling the number of tourists, he said.

Presently, Langkawi receives about two million tourists annually and they spend between RM1,000 and RM2,000 per person daily.