Source :
http://www.globalgeopark.org Source:www.shetland-news.co.uk
Published :
September 24, 2007
SHETLAND could be accepted as a full UNESCO Geopark member as soon as next year, according to local campaigners.
A four strong delegation from the isles has just returned from the seventh European Geopark Network Conference, which was held this year in Ullapool.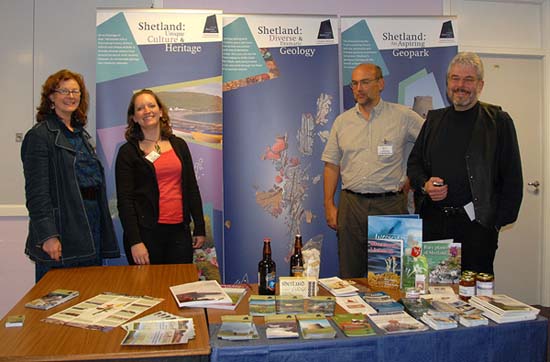 Shetland has been a candidate for some time and chances are good of becoming the third Scottish Geopark after North West Highland and Lochaber won the accolade in 2004 and 2007 respectively.

Geopark status is perceived to be of benefit for heritage and geological tourism and is awarded to areas that can demonstrate they have an important geological history and a sustainable development strategy in place.

There are just 32 designated Geoparks in the whole of Europe.

Speaking from Ullapool, the vice chairman of the Shetland Amenity Trust, Brian Gregson, said Shetland initial application had been very well received.
"We put our first application in this year and this has now come back from the organising committee with some encouraging comments and some areas highlighted that needed some work.

"Having received their response we are now in the process of drafting a second application which will go in to the network next summer. We hope that we will get a little bit closer to being accepted if not actually achieving membership next year," he said.

It usually takes three to four years between initial application and being accepted as a new member of the network.

Mr Gregson, who chairs the Shetland Geopark project group, added: "Your have to submit a very detailed portfolio with all the geological assets that you have within the area you are proposing.

"But more importantly we have to submit a detailed proposal as to how we intend to use that geology as a driver for economic development and regeneration."

The proposal is to get the whole of Shetland designated as a UNESCO Geopark, with a number of 'geo-sites' such as the 400 Million years old volcanic remains at Eshaness or Viking soapstone quarries in Unst.

The Shetland delegation consisted of Mr Gregson, Jonathan Swale of Scottish Natural Heritage, Austin Taylor, the council's heritage manager, and Kate Dougan, the Geopark project worker.

Among the speakers at the conference were Scottish environment minister Michael Russel and chairman of the Crofters' Commission, former Shetland councillor Drew Ratter.