Source :
http://www.globalgeopark.org
Published :
March 31, 2008
----Popular Exhibition of Zigong Dinosaur Fossils throughout the World

Great Occasion of Exhibition in Hongkong, 2005
The Zigong Global Geopark, with a total area of 56.7km2, is a new member of the Global Geoparks Networks (GGN), which is composed of Dashanpu Dinosaur Fossil Site Scenic Area, Zigong Well-Salt Industry Technology Scenic Area and Qinglongshan Dinosaur Fossil Locality Scenic Area in Rongxian County. A well-known and long-history dinosaur museum is standing within the Dashanpu Dinosaur Fossil Site Scenic Area. It is the first professional dinosaur museum in China, where the largest burial site of dinosaur fossils is preserved in the current world and the most abundant Middle Jurassic dinosaur fossils are exhibited, collected and displayed. Also, it is usually called the "Top Three Dinosaur Field Museums in the World" together with the Provincial Dinosaur Park, Alberta, Canada and the National Dinosaur Memorial, State of Utah, America,having a good reputation of "Eastern Dinosaur Palace".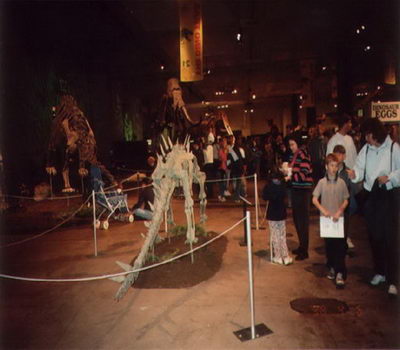 Exhibition Scene in Philadelphia, America
Compared with other global geoparks, the Zigong Global Geopark has two prominent characteristics. One is that museums were built earlier than the Geopark. The Geopark covers two museums with a long history, i.e. the Zigong Well-Salt Historical Museum built in 1959 and the Zigong Dinosaur Museum built in 1987. These two museums can be perceived as the best museums in global geoparks. The other is that it has carried out fruitful outward exhibitions. The Zigong Global Geopark often exhibits its dinosaur fossils out of China to share its rare resources with people all over the world. In this way, it has brought its function of dissemination of earth sciences into full play.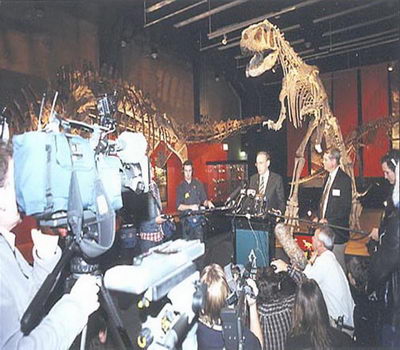 Press Conference of Exhibition in Newcastle, UK
The Zigong dinosaur fossils are famed for their richness, rareness and integrality. Since 1989, the Zigong dinosaur fossils have been transported abroad 15 times for successive exhibitions in 25 cities of nine nations and regions throughout five continents including Japan, Thailand, Denmark,South Africa, America, Australia, New Zealand, South Korea and Hongkong. The Zigong dinosaur fossils have been exhibited itinerantly overseas for 3856 days in all, attracted visitors of almost 20,000,000 person-times and created profits of several million US dollars till now. The Zigong dinosaur fossils are being exhibited in the Miami Museum of Science and Planetarium, America and the Chiba Exhibition Center, Japan now. At the same time, the itinerant exhibition of them is held each year in China to fully perform their role in dissemination of and education in earth sciences. Consequently, the exhibition of Zigong dinosaur fossils has become the noted brand of itinerant exhibition of dinosaur fossils, recognized as a "mobile museum of scientific dissemination". It has contributed to the wide dissemination of scientific knowledge wherever it is by offering material objects, exhibition boards, picture albums, leaflets, interactive campaigns and media advertisements. After the Zigong dinosaur fossils were exhibited in Wellington National Museum, New Zealand, the authority of this country added the paleontology course of one semester to the specially-adjusted teaching plan in view of students' favor. Visitors of more than 4,000,000 were received during the exhibition of one-plus month in commercial places, Hongkong. The exhibition in six museums of Australia was praised as the most successful one. In addition, the present exhibition in Americahits it big beyond comparison.
The Zigongdinosaur fossils---- stars of the Zigong Global Geopark---- have won more and more attention and favor of people all over the world and accomplished the resources share with people all over the world. The exhibition history and experience of nearly 20 years have built up a world-class famous brand, namely Zigong Dinosaur Exhibition.
Looking forward to your visit and cooperation!
Contact person: Zeng Ge, Zigong Dinosaur Museum
Address: 238 Dashanpu, Zigong City, Sichuan, China
Postal code: 643013
Tel.: 86-0813-5801000 86-13980234906
Fax: 86-0813-5801233
Website: www.zdm.cn
E-mail: scbzdm@126.com