Source :
http://www.globalgeopark.org
Published :
June 5, 2008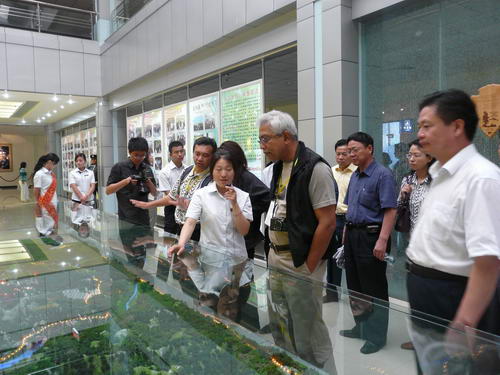 Following the expedition to Songshan Global Geopark on June 2, the expert from the Global Geopark Bureau (GGB), UNESCO made a field expedition to Yuntaishan Global Geopark in Jiaozuo, Henan Province for revaluation.
On June 3, the expert , Prof. Ibrahim Komoo listened to the subject report on Yuntaishan Global Geopark to have an overall knowledge of the working progress and achievements of Yuntaishan Global Geopark after its official designation as a member of the GGN (Global Geopark Network). In the reporting conference, Prof. Ibrahim Komoo inquired such matters concerning Yuntaishan Global Geopark as geoconservation, management structure, financial support, participation in common activities, twinning agreement among members, dissemination of earth sciences, construction of museum, scientific research and geotourism. Afterwards, he and his companions had a field expedition to this geopark.
Members of the expert team visited the visitor reception center and digitalized control center in this geopark and also inspected its geological wonder ---- Hongshixia (Red Stone Valley) Scenic Spot, geological museum and other places. In this way, they acquainted themselves with detailed conditions of the development, construction and protection of this geopark. Furthermore, they profoundly probed into some details, e.g. the maintenance of water environment and the establishment and recognition of image of Yuntaishan Scenic Area.
Prof. Ibrahim Komoo said that he would prepare a report on the field expedition and then submit it to the GGB, UNESCO. The latter will, subsequently, conclude the revaluation result after taking one consideration with another. Prof. Ibrahim Komoo left China on June 5 after his field expedition to both Songshan and Yuntaishan global geoparks was ended.
Joining the GGN of UNESCO in 2004, Yuntaishan Global Geopark is one of first batch of the GGN's members. It was unveiled and opened officially on June 30 that year. Yuntaishan Global Geopark is an successful example of UNESCO's initiative of geoparks driving local economy. The local integrated income from tourism that driven by this geopark amounted to RMB 9,331,000,000 in 2007.
Pursuant to UNESCO's provisions of the GGN management, it is required to revaluate each member of the GGN every 4 years. This revaluation consists of such procedures as subject report, field expedition and expert symposium, centering on six sections, i.e. contribution to the work of the Network, management structure and financial status, conservation (geoconservation) strategy, strategic partnerships, marketing and promotional activities after the official designation as a member of the Global Geopark Network, and sustainable economic development.