Source :
http://www.globalgeopark.org Source: Hubei Daily
Published :
June 19, 2008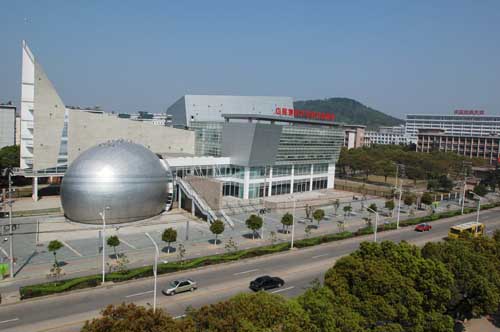 June 12 was the open day featured by geosciences at China University of Geosciences (Wuhan). On that day, numerous students and their parents were attracted to the Yifu Museum by its reputation, where they roamed about the fossil forest recording over 100 million years of history and attended a lecture on prevention of earthquakes and geologic hazards.
As the first university museum that has been proclaimed as a national Class 4A scenic area, its gigantic fossil curtain wall, unparalleled colored jades and stones, multifarious minerals, mystic dinosaur skeleton, track fossils and other exhibitions seem to unfold a grand painted scroll reflecting tremendous changes in the earth over 4.6 billion years, winning endless praises from foreign crowds.
Some staff member pointed out that such open day at the university had become an important channel through which the former so-called "ivory tower" communicates with the society. However, the purpose of holding such open day should not be limited to offering of the service of recruitment consultation but include penetration through the entire society with science and humanistic spirit.