Source :
http://www.globalgeopark.org Source: www.culture-routes.lu
Published :
June 19, 2008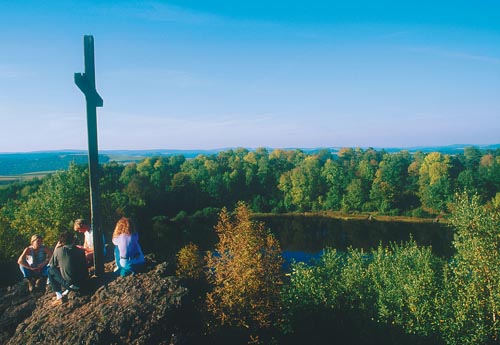 The VULKANLAND EIFEL national geopark invites school classes, bus groups, families and visitors interested in geology on a discovery tour of the 280 km long "German Volcano Route".
The signposted excursion route connects 39 geological sites of cultural and industrial historic interest, all related to the Eifel volcanoes.
The visitor will gain access to a whole host of volcanic remains including craters, cinder cones, lava flows, domes and numerous sputtering volcanic sources.
The fiery natural heritage is presented visually and clearly in museums, information centres and mines. With the activities on offer including swimming in a crater lake, visiting a volcanic museum, mountain-biking, stonemasonry courses and walking along a variety of geological routes, VULKANLAND EIFEL will provide experiences for the whole family.
A number of car-based excursions provide visitors to the national geopark with the opportunity to gain an insight and an understanding into the history of the origins of Germany's youngest landscape and the lives of people from and connected with this volcanic heritage.