Source :
http://www.globalgeopark.org pressandjournal.co.uk
Published :
June 20, 2008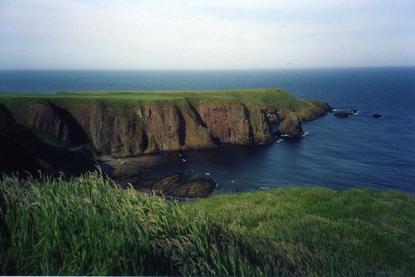 ONE of Scotland's most significant geological features could be the key to attracting more tourists to the north-east.
The Highland Boundary Fault line, separating the Highlands and Lowlands, is "one of the great tectonic structures of the British Isles", according to experts.
And Stonehaven Tourism Group is hoping to use the natural features of the fault line to its economic benefit.
It wants the area from Stonehaven to the Angus Glens to be designated a Unesco geopark site -one of fewer than 60 in the world.
The Highland Boundary Fault line begins its journey through the country at Garron Point, on cliffs north of Stonehaven.
It then works its way through the town before moving south-west to Arran.
On each side of the line lies two types of geological landscape.
To the north and west the land contains hard metamorphic rock, while the south and east is made up of softer sedimentary material, primarily red sandstone.
Tourism group chairman Frank Budd said geopark status would attract visitors, particularly walkers.
"We think there's a possibility schools might take pupils to see where the fault line occurs," he said.
Scotland already boasts two of the world's 56 geoparks -in Lochaber and the north-west Highlands.
The tourism group is preparing to launch a feasibility study to determine the impact that geological recognition would have on the north-east.
It also plans to instal special markers and information points following the fault line's path through Stonehaven, raising awareness of its existence.
Professor Rob Butler, specialising in tectonics - ertaining to the structure of the earth's crust - at Aberdeen University, said geopark status would help make sure the area was conserved.
"The geology changes really dramatically," he said.
"It's the best place in the UK to see the boundary fault.
"People come from all over the place to study it."
A fossil - a 428million-year-old example of one of the earliest air-breathing animals - s found at Stonehaven in 2003 and could be a deciding factor in winning geopark status.
VisitScotland spokeswoman Sally Wallis said: "Attaining geopark status would be great news for Stonehaven from a tourism perspective, and raise the profile of the area's geological importance in terms of scientific quality, rarity, aesthetic appeal and educational value.
"Geopark status would also help to protect the area's geological heritage and promote sustainable development."