Source :
http://www.globalgeopark.org
Published :
June 23, 2008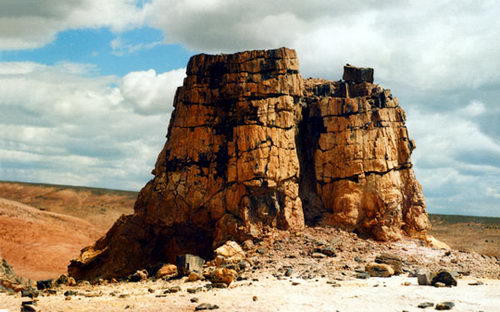 The protective construction engineering of Qitai Silicified Wood-Dinosaur National Geopark in Sinkiang is under construction, of which accumulative investment amounts to RMB 6,600,000.
The National Geopark, with a total area of around 58km2, is located 150km apart from the north of Qitai County, Sinkiang. There are altogether more than 20,000 petrified tree plants of silicified wood, of which one plant is 2m in diameter and 26m in length, lying on the ground like a gigantic dragon. It is the second largest petrified tree in the world.
Dinosaur fossils in excess of 120 are buried within the National Geopark. One of them ---- 30.4m long, 10m-plus tall and about 50t weighty ---- is the largest dinosaur fossil in current Asia.
The Moguicheng (Devil City) is 40km away from the northwest of the silicified wood sub-park, where fancy weathered architectures were abundant and enjoyable.
The foresaid three landscapes have the extremely high value in aesthetics and research, thus the government of Qitai County devoted RMB 6,600,000 to the protective construction of the National Geopark this year.
The engineering was started in early April, comprising one geopark gate and one monument square at the entrance of the National Geopark, one minor monument each in Konglonggou (Dinosaur Ditch) and Moguicheng, one tourist reception center and one exhibition hall in about 700m2 (including 5 exhibition booths and 22 exhibition panels) inside the National Geopark, and 5 explanatory panels of traffic and geographical location and 20 introductory panels of landscapes in the scenic area.
The entire engineering is expected to be finished at the end of September.