Source :
http://www.globalgeopark.org Source:www.visitgd.com
Published :
June 24, 2008
Danxiashan is a sandstone mountain region adjacent to the city of Shaoguan in northern Guangdong Province in China (north of Hong Kong). The landform is similar to the sandstone regions of northern Arizona (Sedona) and southern Utah, but in a subtropical vegetation zone.
You may know the "Danxia Landform". In geology, it is a special name for a landform that is composed of rock walls and cliffs of red terrestrial sandstone and conglomerates, which are small groups of stones bunched together. These kinds of landscapes are widely scattered in China. Among the country's 29 natural and cultural heritage sites feature this type of special landscape. Among the country's 151 national scenic areas, 26 have "Danxia Landscapes." But few people know that they are named after the Danxiashan Mountains in Renhuaand Qujiang counties of Shaoguanin South China's Guangdong Province. In the 1930s, a Chinese geologist named it after researching the kinds of landscapes scattered in South China. At present, 650 "Danxia Landscape" sites have been found in China. The Danxiashan Geopark is considered to have the most typical version of the landform.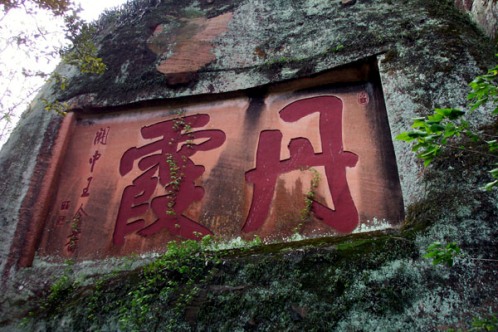 Encompassing 290 square kilometers, Danxiashan Mountain looks like a red sandstone peak forest. There are more than 380 peaks of various forms, with the tallest standing 409 meters high. About 65 million years ago, this area suffered tectonic movement and many faults and joint were formed. The whole area was turned into an erosion region. About 23 million years ago, rapid elevation took place in this area, which finally shaped its unique geomorphology. Covered by a subtropical evergreen forest with the Jinjiang River meandering through it, the geopark has great potential to become a bustling tourist attraction.
Danxia Landform has been nominated for World Natural Heritage. You may visit UNESCO website for more information.