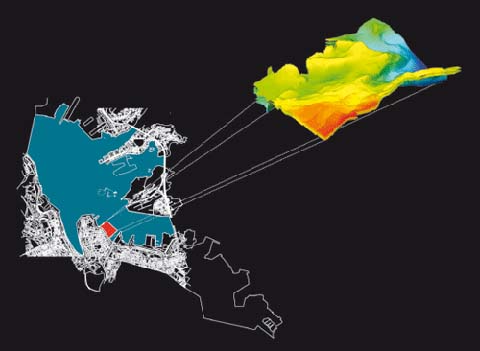 A scale model of the Troll reservoir has been installed alongside the Norwegian
Petroleum Museum in Stavanger.
(Illustration: Helen & Hard)
Young and old in Stavanger will soon be able to stroll around a landscape 150 million years old when the city's new Geopark opens alongside the Norwegian Petroleum Museum (NPM).
This facility recreates the way the Troll reservoir in the North Sea looked when it was exposed to the open air and the dinosaurs still ruled the Earth.
It has been designed as an "experience centre", offering plenty of opportunities for play and relaxation along with understanding and learning.
"We want to stimulate people's curiosity," explains Finn Krogh, director of the NPM. "They can come here to have fun, and will hopefully also want to know more."
The Geopark project forms part of Stavanger's year as a European capital of culture, and accordingly represents a temporary installation.
"But this idea is too good to be allowed to die on 31 December," claims architect Siv Helene Stangeland at the Helen & Hard practice.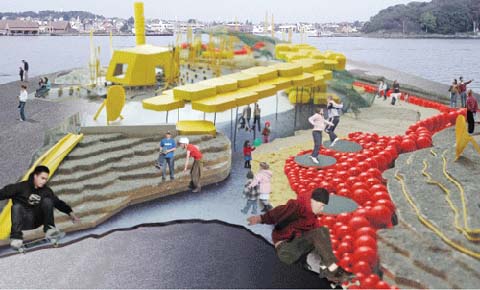 Due to open on 29 April, the Geopark will provide users with a realistic
experience of the Troll field's "landscape".
(Illustration: Helen & Hard)

"It's about bringing a unique underwater world into the city and to people who live a long way from the mundane realities of the petroleum sector."
Distance
A considerable distance certainly exists between this industry and the general public in Norway. The country's "oil adventure" has emerged rapidly, with technological progress moving so fast that most people have problems keeping up.
Although they welcome the associated pension fund, jobs and growth, ordinary Norwegians cannot be bothered with the details. They simply raise an eyebrow when huge numbers are chucked around and the Troll A platform's dimensions are compared with the Empire State Building in New York.
The NPM and Helen & Hard want to build a bridge across this gap between industry and society, explains Ms Stangeland.
"I'm fascinated by this resource, the expertise, technology and choice of materials. We need to transfer this to land through exciting design and architecture.
"And we want to encourage reflection and discussion. This huge energy store far beneath the seabed creates prosperity and development, while the green- house challenge and climate change keep others awake at night."
Explained
The landscape of the Troll reservoir can naturally be explained in PowerPoint presentations and spreadsheets. But that is largely for internal use. Ordinary people do not turn up in conference rooms to study boring animations.
Wandering through the reservoir, skateboarding on the oil/water contact and sliding on a well path offers another experience entirely.
"This park will provide a completely different route to comprehension," reports Geir Mossige Johannsesen, the NPM's exhibition and communication manager.
"It offers so many layers of information - on geology, seismic surveying, well technology, pipeline systems, oil and gas production, and the connection between erosion and deposition."

Challenges
The Troll field is being reproduced in a 1:500 scale on the quayside square which fronts the NPM. That has posed both educational and architectonic challenges.
"We've had to set some priorities," explains Mr Krogh. "It's important to present a lot of disciplines, and we must illustrate the huge dimensions in an easily understandable form.
"The balance between abstraction and reality is a subtle one. We have to choose solutions which convey knowledge and spark curiosity as effectively as possible."
A lot of the materials employed have been obtained directly from the oil industry. Re-use creates a sense of proximity. The park will have a robust image - there has to be smell of oil and the rust must be real, because that is how things are offshore.
The industry has been good at handing over mooring buoys, concrete mats and other equipment which would have been too expensive to obtain any other way.
Mr Krogh and Ms Stangeland believe that a park which offers interactive experiences will teach visitors more about the industry.
Given that 2008 is also the International Year of the Planet, a geology lesson would seem to be very appropriate.
Two large parabolic antennas from the Frigg field will be used for a sound experiment which unites play and scientific understanding.
It will demonstrate how acoustic waves move, which in turn forms the basis for the seismic surveys which identified the way the Troll reservoir looked.
The aim for the City of Stavanger has been to turn the square outside the museum into a recreational area for children. But adults will not be excluded.
Everyone will be able to stroll around, look and wonder, sit down with a cup of coffee or find a shelt­ered spot and let their thoughts wander while youngsters enjoy a skateboard ramp created from a fault surface on Troll.
"This is a place for all," says Ms Stangeland. "Youngsters will be allowed to organise much of their own activity. At the same time, it provides a venue for festivals and performances. Imagination is the only limit."
The budget for the Geopark is more than NOK 7 million, with the city council and the Stavanger2008 project providing NOK 3 million each.
StatoilHydro has donated another NOK 1 million on behalf of the Troll licence, and the Friends of the NPM have come up with NOK 150 000 for one of the experiments in the park.
An unusual concept
Users of the Geopark will obtain a realistic impression of how an oil and gas reservoir looks, explains geologist Anke Wolf at the NPD.
Troll data and models have been made available by the agency to the Norwegian Petroleum Museum and those responsible for preparing this city centre venue.
The NPD agrees that the general public knows far too little about operations on the NCS, which represent Norway's most important industry.
In Ms Wolf's view, the Geopark will offer information and education in an unusual way. The model is credible, and based on accurate data and quantities.
"A fault has been visualised here in a good way," he explains. "As far as I'm aware, this is the first time such a big model of a reservoir has been constructed.
"Visitors can wander around, touch the equipment and study cross-sections. Knowledge is conveyed in a more effective way than through text and pictures alone."