Source :
http://www.globalgeopark.org
Published :
June 27, 2008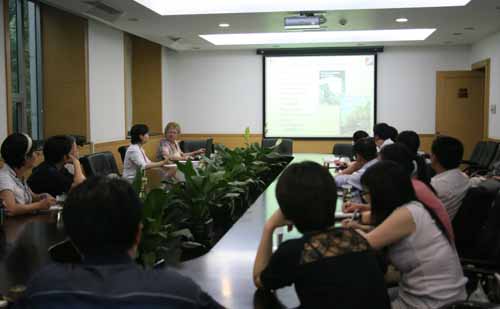 Upon request of the GGN (Global Geoparks Network) Office, Ms. Cynthia Burek who was a professor of geoheritage from the University of Chester in UK gave an academic report on the British geo-conservation and geo-diversity in the Information Center of Ministry of Land and Resources, P.R.C. (MLR) on June 25. Relevant personnel from Chinese Academy of Geological Sciences, China Institute of Environment Monitoring, Beijing Fangshan Global Geopark, Beijing Normal University, Information Center of MLR listened to this report.
The reporter, Ms. Cynthia Burek, was a professor engaged in the teaching of geo-conservation and had the working experience of many years in the research of British geo-conservation. She traveled to China this time for the purpose of a field investigation on the geo-conservation in China, especially on karst geoparks. She hoped that she could integrate the contents concerning geo-conservation in China into her courses so as to teach them to more British students.
Prof. Cynthia Burek, by means of pictures and accompanying essays, introduced the basic conception and philosophy of geo-conservation as well as the history and status quo of geo-conservation in UK; moreover, she gave her own ideas of the geo-conservation work. In this reporting conference, Prof. Cynthia Burek showed brochures, books, articles and other materials related to the geo-conservation in UK to make listeners know some good philosophies and practices of UK in this field. At the same time, she also pointed out that since most of people were not interested in geology at all, the brochures related to geo-conservation should be popularized, understandable, differently expressed in relation to different crowds and distributed free through diverse channels such as schools, supermarkets and cafes in order to strengthen everyone's awareness of geo-conservation.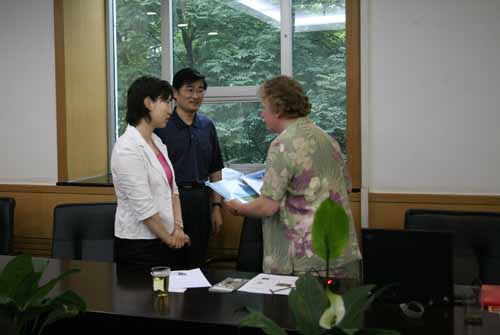 In addition, Prof. Cynthia Burek investigated the Shihua Cave (Rock Flowers Cave) and other karst landscapes in Fangshan on June 24 according to the arrangement made by the Construction and Management Office of Fangshan Global Geopark. She said that the karst landscapes in Fangshan were so ample and beautiful that she desired for another comprehensive survey on this geopark in the near future.