Source :
http://www.globalgeopark.org
Published :
July 7, 2008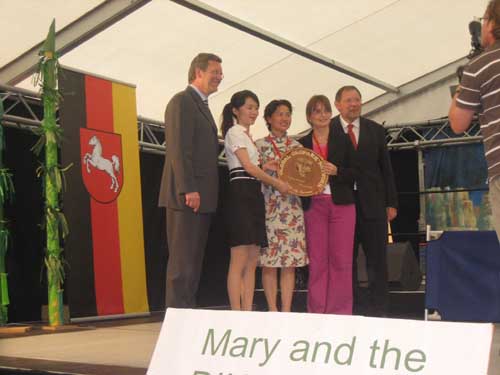 Delegations from Zigong Geopark were presented with a large ceramic plaqueby the UNESCO



Delegation from Longhushan Geopark was presented with a large ceramic plaque by the UNESCO

Delegations from both Sichuan Zigong Geopark and Jiangxi Longhushan Geopark were presented with a large ceramic plaque each by the UNESCO in the evening of June 25 at the 3rd International Geopark Conference held in Osnabruck, Germany.
The Conference, attended by approximately 500 delegates from more than 60 countries across five continents, was inaugurated in the morning of June 23. In the opening ceremony, the president of TERRA.vita Global Geopark, L. M. Hugo, delivered an address of welcome. Upon his proposal, all participants stood in silence for one minute to mourn lives claimed in the massive earthquake in Wenchuan County, Sichuan, China.
On the first day, the delegate from Zigong Geopark ---- Zhang Yongcong and the delegate from Longhushan Geopark ---- Dr. He Qingcheng publicized and introduced Zigong-specific and Longhushan-specific geo-resources and abundant cultural landscapes to the whole world through their presentations titled Geological Features of Zigong Geopark and Main Characteristics of Longhushan Geopark respectively.
Delegations from both Geoparks also took part in the field expedition activity organized by the host during this conference to facilitate communication between and learning from other global geoparks.