Source :
http://www.globalgeopark.org Source: CCTV.com
Published :
July 14, 2008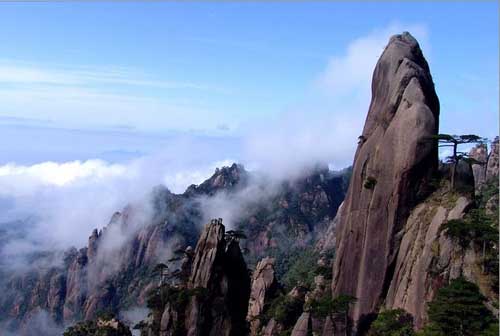 Mount Sanqingshan Geoark, in Jiangxi Province is now recognized as a part of the invaluable global heritage. The recognition was bestowed, three years after China made application for inclusion on UNESCO's world heritage list. The park stood out from 160 other nominated sites at this year's 32nd session of the World Heritage Committee. Here in China - the park's investiture into the global heritage is considered a major achievement.
Mt Sanqingshan is a large-scale geopark. The natural landscapes here are captivating.
Here one finds the most complex and spectacular granite formations anywhere. These formations sometimes are referred to as the "Natural Museum of Granite".
Mount Sanqingshan reveals a continuous record over a billion years of geological evolution. The evolution of the area has given rise to a unique woodlands ecosystem. Some 23-hundred species of plants and over 17-hundred species of wildlife have been identified here, so far. Many of these specimens are rarely seen outside the area.

Sanqingshan is an outstanding locale for geo-morphological study. And it presents inspiring natural perspectives for the artist. Even prior to the international recognition, Mount Sanqingshan was established as a major tourist attraction.

When news of the Heritage Committee's decision reached , people from a village near the park gathered to celebrate with drums and gongs. The park's newly enhanced stature is expected to bring a major increase in tourism and additional support for the local economy.

Acceptance onto the World Heritage List, means conservation measure in the park will be strengthened, to ensure that Sanqinghan survives for Posterity.