Source :
http://www.globalgeopark.org Source:Management Committee of Huangshan Geopark
Published :
July 16, 2008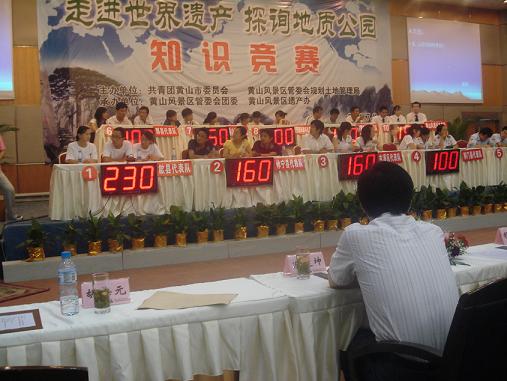 The Huangshan Municipal Commission and the Management Committee of Huangshan Geopark co-organized the "Approaching World Heritage, Exploring Geopark" knowledge team competition on July 8. Altogether ten teenager teams from Huangshan City entered this competition.
This competition was an important part of the "Eco-Huangshan Teenager Activity Month" series thematic activities of environmental protection, which were organized by the Huangshan Municipal Commission this year, and the third "Cultural Heritage Day" series activities of Huangshan Scenic Area. It was intended to construct Huangshan into the "China's tourism brand and world's tourism resort" and also into the "fertile soil for scientific development, pure land for ecological civilization and pleasant territory for residential living". Furthermore, it was expected that teenagers could be directed further to know, love and protect Huangshan through such competition.
Beyond the knowledge team competition proceeding on that day, netizens inside and outside Anhui Province could log on relevant websites to answer questions before September 30. Participant netizens had a chance to be gifted a ticket of Huangshan Scenic Area.