Source :
http://www.globalgeopark.org Source: grandcanyonnews.com
Published :
July 22, 2008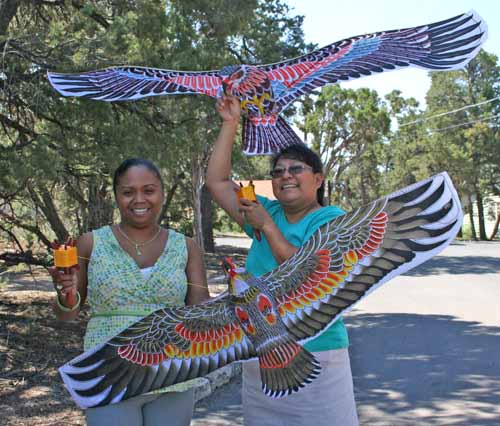 Pic. Melanie Fellows and Leona Begishie show off new Chinese-made kites
being offered at Grand Canyon Association bookstores

Grand Canyon Association commissions Chinese kites
In China, kites have a tradition rich in centuries of symbolism. But specially-designed condor and golden eagle kites available here this summer are symbolic of a much newer relationship - the one formed a year ago between Grand Canyon National Park and a national park in China.
"These kites are representative of our new relationship with our sister park, Yuntaishan World Geopark," said Brad Wallis. As executive director of the Grand Canyon Association, he led the effort to commission the hand-made kites after Park Superintendent Steve Martin suggested the idea last fall after encountering kite vendors in China.
"He said, 'Wouldn't it be nice if we could work out something for kites depicting species at Grand Canyon,'" said Wallis. "He asked us if we'd be willing to pursue it and we said sure."
The golden eagle kite is now available at Grand Canyon Association bookstores, with a condor design expected to arrive in the fall. The kites are made of a coated paper glued to a bamboo frame and come with string on a wooden spool. They are packed mostly unassembled in silk-covered boxes.
Wallis said they are designed to fly but are also decorative.
"They're very beautiful from a art standpoint," he said.
The kites carry two messages, he said. From the perspective of the sister park relationship with Yuntaishan, they carry great cultural weight and from Grand Canyon's they are a reflection of two important wildlife species here.
Superintendents of the two parks signed an agreement in Beijing last August, drawn together by their similar rich geologic histories.
Yuntaishan World Geopark is located in Xiuwu County of Jiaozuo City, 70 kilometers northwest of Zhengzhou City the capital of Henan Province.
According to a fact sheet packaged with the kites, the two parks "have many similarities, including formation of their main features in the same geologic time periods; deep canyons and gorges; and extraordinary geologic, cultural and natural resources."