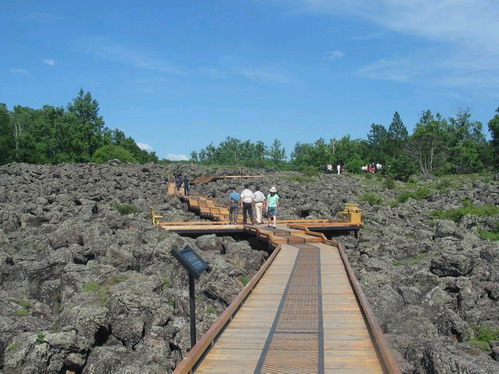 You will certainly indulge yourself in beautiful slope greening and natural ecology on both sides of a highway when you drive to Wudalianchi Geopark. What you see is just an epitome of environment protection's being stressed in key engineering constructions in Wudalianchi Geopark in recent two years.
The reporter interviewed the superintendent of the engineering when the Wudalianchi Geopark Landscape Highway had been open to traffic for one year. The superintendent said, "The goal of constructing an example, ecological and environment-friendly road had been fixed at the stage of survey and design. The concept of environmental protection was reflected in the entire process from design to construction. Firstly, we paid attention to the protection of natural landscapes when we chose a route from the former highway to be broadened. We transplanted the former landscape trees and were careful not to destroy the greenbelts on both sides during broadening. We also attached importance to the environmental protection during construction. We, for example, removed soil from and dumped soil into the given section in the process of excavation; furthermore, we leveled up the excavated land and converted it into a farmland after the engineering was completed. In this way, we not only reduced the damage to environment but also saved the engineering expense. Secondly, we thought much of the engineering greening. The greenbelts on both sides had been transformed into a garden-style sightseeing botanic belts by planting drought-resisting, adaptable and long-blooming flowers and grass.


Driving on the volcano road paved with asphalt concrete, the reporter can enjoy the handsome road with black and soft surface and the comfortable travel with little bump. Plank paths giving way to trees occur here and there on new protective plant paths on both sides of the volcano road in Wudalianchi Geopark. The reporter learned from the Wudalianchi Scenic Area Environmental Protection Bureau that the concept of environmental protection had penetrated key engineering in Wudalianchi Geopark. The Bureau introduced that environment-friendly toilets had been built in the scenic area for a reduction in pollution; and that the primitive ecology and all plants had been protected to the utmost extent in the newly-developed Wenbo Scenic Area. The Bureau continued that the sector of environmental protection had reinforced the law enforcement, for instance the environmental evaluation before engineering start and the environmental supervision during construction, so as to control the destruction to environment effectively; in the meantime, all construction institutions had performed their own responsibilities positively and regarded the environmental protection as their obligation consciously.