Source :
http://www.globalgeopark.org Source: Sobrarbe Newsletter
Published :
July 28, 2008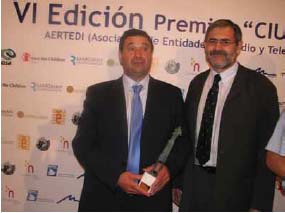 The Region of Sobrarbe was awarded with the Citizens Prizes due to the recognition of its history, identity signs and cultural heritage. The Citizens Prizes are awarded by Digital TV and Radio Broadcasting Entities and by the Citizen Audiovisual Organization.
The event took place last 4th July in the Halls of Hotel Intercontinental in Madrid. The prize was given by José Carmelo Lisón Arcal -the Dean in Faculty of Political Science and Sociology of Complutense University of Madrid- and it was received by the Chairman of the Regional Administration of Sobrarbe, Enrique Campo Sanz, who was accompanied by representative people of ten of the regional councils. Both entities -the regional administration and the faculty- are deeply linked mainly due to the celebration of Espiello Documentary Contest, which is organised by the Cultural Section of the Regional Administration.
The Citizens Prizes were born with the aim of appreciating and awarding any personal or institutional career as a recognition for being bearers of cultural values and identity signs. The purpose of this prize-giving event was showing gratitude and respect to those people or institutions that, with their way of being, provide citizens with examples of behaviour and reasons for reflection, specially during the current year which has been declared The Year for Intercultural European Dialogue.