Source :
http://www.globalgeopark.org
Published :
August 5, 2008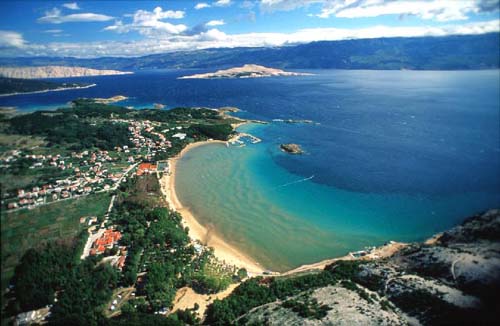 The Croatian new Geopark Rab Island is in the process of development. The area includes Rab Island of 93,6 KM2 , and two small islands - Grgur and Goli. Geographically, the Island of Rab is located in the Northern Adriatic Sea, as part of the inner belt of Kvarner islands, divided from the mainland by the Velebit Channel.
Besides the rich history and cultural heritage, as well as the long touristic tradition and developing economy, the geological diversity of the island makes the fundament of the geopark. Its geology is in many ways specific for the Mediterranean region. The quality of exposures and unique stratigraghy of Pelogene classics require protection and obtain high quality education for geologist of various specialties, as for example the Lopar peninsula, which allows almost 3-D insight into the architecture of tidal sandstone bodies within a paleoestuary and has already been the training area for study of classics sequence stratigraphy. The Kamenjak anticline built of Cretaceous limestones hosts the Fruga valley which is characterized by a thick sequence of Quaternary deposits.
Nearly a hundred freshwater spring are part of the very interesting hydrogeology of the island. Aiming to show and explain such an interesting geology, and protect the Rab's geoheritage, over one hundred geosites have been studied and selected for geostops along existing touristic trials. By September 2007, two geotrails were established with 25 geostops marked by explanation plates in four languages. The Lopar geogarden is in preparation for the summer of 2008.
The Island of Rab geopark, though still in development, is already being used as a natural laboratory for the education of students from the universities of Zagreb and Ljubljana (Slovenia). The students regularly attend field camps on Rab and take full advantage of its well developed infrastructure. The regular visits of generations of students resulted in the development of their appreciation of the Rab natural heritage and selection of the island for the summer holidays destination. Over the years, groups of foreign students also visited the Island of Rab, as did participants of several science workshops.