Source :
http://www.globalgeopark.org
Published :
August 9, 2008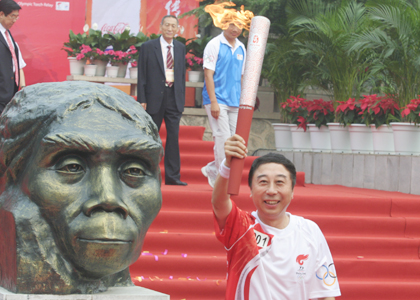 The Olympic torch was lit at the Zhoukoudian site of "Peking Man" in Fangshan Global Geopark at 7am, August 8 when was the final day of the Olympic torch relay lasting 130 days through over 100,000km.
On that day, the torch relay started from the Zhoukoudian Museum where the whole course of discovery of Peking Man sites was exhibited, the origin of modern man was learned about and there were some important Peking Man sites nearby. Not running directly to the next torchbearer, the first torchbearer Feng Gong, one of the best Chinese comedians, bowed towards the statue of Zhoukoudian Peking Man at the starting point instead to express his worship to ancient ancestors. Afterwards, he waved towards the cheering crowd while running down.
In the current afternoon, the Olympic torch ended its relay in five districts of Beijing to enter the main stadium of Games of the XXIX Olympiad, Bird's Nest. In the evening, the main Olympic torch burned with a bright flame on the grand opening ceremony.