Source :
http://www.globalgeopark.org Source: Guide to Geological Survey
Published :
August 11, 2008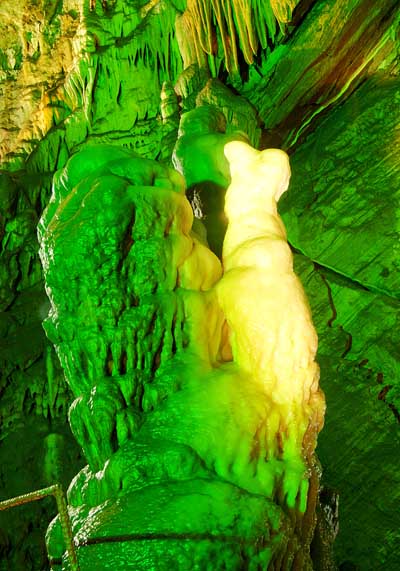 In order to welcome the Beijing Olympic Games, exhibit the natural uncanny workmanship to all athletes and tourists and conserve well the valuable natural resource, i.e. Rock Flower Cave (Shihuadong in Chinese), the Beijing Municipal Institute of Geology and the Guilin Electrical Equipment Scientific Research Institute were invited to redesign the interior lighting in Shihuadong Scenic Spot. The Interior Lighting Design for Shihuadong has been approved by relevant experts who were organized by the Beijing Municipal Bureau of Land and Resources, which will be put into practice as fast as possible in the Shihuadong Scenic Spot.
The former dominant metal halide lights were characterized by inability to make some landscape details clear, high heat output, no function of instantaneous switch-on and unfavorability to the conservation of such internal heritage resources as stalactite in the event of long lighting. They, therefore, were replaced by the lights with high efficiency, energy saving and low heat output, e.g. LED lights and high-frequency non-electrode lights, in this reconstruction. Moreover, low-power energy-saving lights were applied to lighting in the streetlight system. Altogether RMB 36,570,000 were invested in this reconstruction to substitute wires and cables of 18400 meters, karst cave-dedicated LED display magnetic control boxes and switches of 60 sets, 49 protective light boxes for scenic spot names and education, 31 light boxes for publicity, and LED spotlights and dampproof streetlights of over 1,400 sets.
The implementation of Interior Lighting Design for Shihuadong will contribute to a reduction in the problems caused by lighting, for instance interior temperature increase and humidity drop and plant pollution, a further improvement in the interior microenvironment, acceleration in the growth and development of interior landscapes and better conservation of the interior rare geoheritage while being developed.