Source :
http://www.globalgeopark.org Source: WASPADA ONLINE
Published :
August 12, 2008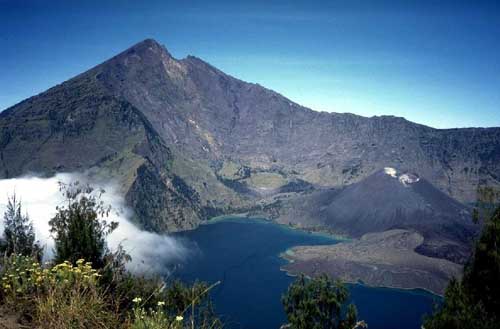 MATARAM, Indonesia - The number of tourists coming to Mount Rinjani (3,726 m above sea level), one of West Nusatenggara (NTB)'s main tourist attractions, is rising every year, a local official said.
In the April-July period of 2008, a total of 5,023 tourists (3,238 foreign and 1,808 local) visited the mountain on Lombok Island compared to 4,477 in a corresponding period in 2007, M Arief Toengkagie, head of the Mount Rinjani National Park (TNGR), said here Saturday.
Meanwhile, during the January-December period in 2007, Mount Rinjani attracted a total of 9,517 tourists (5,065 foreign and 4,452 local).
"As the number has continued to rise in the past few months, we estimate that by the end of 2008 more than 10,000 tourists will have come to Mt Rinjani," Toengkagie said.
The mountain's base covers parts of three districts -- West Lombok, Central Lombok, and East Lombok -- and its top can be reached via two alternative routes.
Via the Sembalun route, the climb can be made first by a five-hour trip by public transport followed by seven-hour trek on foot from Sembalun Lawang to the mountain peak. A trip on foot from Sembalun Lawang to Segara Anak Lake takes 8 to 10 hours.
The mountain's highest point can also be reached via the Senaru route which begins in Bayan district. On this route, a tourist first makes a public transport trip of three or four hours. Followed by a walk of seven to 10 hours ending at Segara Anak Lake.
Visitors to Mount Rinjani can enjoy several interesting tourist objects including those in Senaru which is the gateway for hikers. Tourists can also visit a traditional Senaru village which lies near a two-tier 25-m high waterfall, the first tier named Sedang Gila and the second Tiu Kelep.
In Kembang Kuning village, visitors can find the Jeruk Manis waterfall (30 meters high). The village also has several species of fauna such as Lutung (Tracyphitecusauratus cristatus) and Eagle.
Arriving at the peak of Mount Rinjani, visitors can enjoy beautiful views, go angling in Lake Segara Anak (2,010 m above sea level) or immerse themselves in a hot-water spring at Aik Kalak.
Toengkagie said the tourist facilities and attractions on Mount Rinjani were managed in much better ways than in the past in cooperation with local residents.
The Mount Rinjani National Park itself has been nominated as the first Geopark in Indonesia and the second in Asia after Langkawi Island, Malaysia, he said.