Source :
http://www.globalgeopark.org Source: Naturtejo Geopark's Newsletter, Issue 23
Published :
August 13, 2008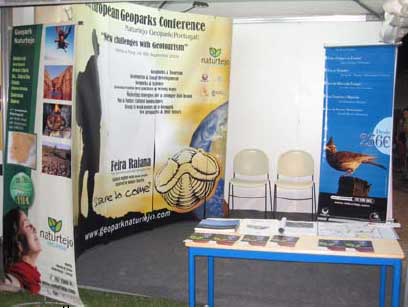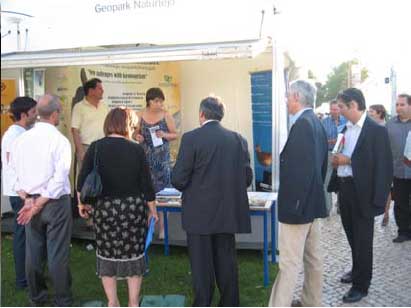 Naturtejo Geopark participated in the 3rd National Fair of Natural Parks and Environments, where the theme Geotourism and Geoparks was in discussion during the seminar "Ecotourism for Nature Conservation". The event occurred in the Algarvian city of Olhão and this edition presented several innovations, as the Tourism Fair, where 3 tourist operators from Germany - Eco Reisen, Moderns Reisen, CulToura Gruppenreisen - an operator from Spain - Haciendo Huella - two representatives of tourism portals about Portugal for the German market - Portugal Mania and Wandern in Portugal - and Lisbon sucursal of an English company for event celebrations - TLC, Events in Portugal were present. In this fair Naturtejo - Intermunicipal Company for Tourism presented its main tourist products and services through Cristina Preguiça. It was a good opportunity for the 40 companies registered in the event to establish motivating contacts for future partnerships with the outside companies. It is worth to mention that Naturtejo Geopark is already a destiny commercialized by one of the operators there, Haciendo Huella.
"Ecotourism for Nature Conservation" was the main subject of the seminar held in the 25th July signaling the celebrations of the World's Day for Nature Conservation and the International Year of Planet Earth with the support of National Commission for UNESCO, with the presence of Tito Rosa, president of the Institute for Nature and Biodiversity Conservation. In this seminar, Diamantino Pereira, professor of Minho University, participated as invited speaker in the panel "Nature Management and Conservation", with a talk about "Geotourism and Geoparks: strategies for a sustainable development". During his talk, professor emphasized his recent visit to Naturtejo Geopark, the only Portuguese Geopark in the European and Global networks of UNESCO. He said also that "a Geopark look for an increasing number of tourists ambitioning the direct contact with nature, local population, life modes and rural products and, at the same time, to know more about how landscape evolved, about landforms, rocks, soils or minerals. During his talk, that was very important for Naturtejo Geopark, as one of the case studies for the success of geotourism development, there were also defined the main features and aims of the Geopark concept.
The program of the Fair of Natural Parks and Environment included also outdoor activities for all ages and tastes. More than 30 initiatives of nature discovering and observation, environmental education and nature sport, targeted for adults, teenagers and kids were open for public. Besides the presence of several institutions and companies related with nature conservation and tourism sector, like Naturtejo, the Fair also had a market of traditional and biological products, a book showcase about environment and photo, design and handcraft exhibitions. The diversity of activities attracted thousands of visitors to Olhão, among them foreigner tourists, enabling promotion among a much diversified public. Naturtejo participates in this event for the second consecutive time.