Source :
http://www.globalgeopark.org Source:Lesvos Petrified Forest Geopark
Published :
August 25, 2008
July - September 2008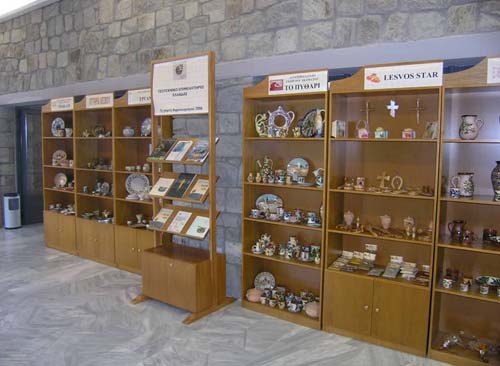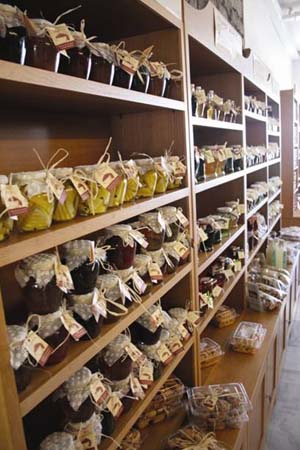 The annually-organised Agrotouristic Festival is by now a constitution for the Lesvos Petrified Forest Geopark, contributing greatly to the promotion of the local production, traditions and creativity. This year, it is organised with great success, for the 9th time, from July till September.
Thousands of visitors have the opportunity to try, get to know and admire numerous high-quality local products by visiting the exhibition centre at the Natural History Museum of the Lesvos Petrified Forest, located at the village of Sigri within the Lesvos Geopark.
The specially-designed stands of the Museum host the best-quality products of the women agrotouristic co-operatives and other producers of Lesvos, many of them organic, as well as traditional and modern works of art, most of which are handmade by artists of Lesvos. Tastes, smells, colours, products representing the fertile land and the generous people of Lesvos which the visitors can experience: "spoon-sweets" and jams, "syrup-sweets", salted vegetables, pasta, "oil-cheese" and other dairy products, liqueurs, wines and ouzo, virgin olive oil, soaps, honey, herbal teas, herbs, dried fruits, but also embroideries, ceramics, jewelry, pieces of art curved in wood and many other creations. This year, the participation in the Festival is larger than any previous years, with seven women agrotouristic co-operations, 18 local producers and 14 ceramists and artists.
The Agrotouristic Festival this year is supplemented by a variety of parallel events. Traditional live music and theatrical performances in the amphitheatre of the Museum give an additional reason to visit the Festival. Furthermore, the Museum publishes and distributes to all visitors a special magazine for the Agrotouristic Festival, which presents all the products and producers who participate in the Festival.
The festival represents the overall of the lesbian production, which makes it a very important contributor to the efforts for the promotion and development of the local economical activity. It also contributes greatly to the encouragement and support of the agrotouristical activities of the island's local community, as it is the most appropriate and efficient approach of holistic and sustainable local development.