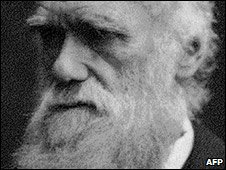 Darwin described Glen Roy as a "remarkable area"
A guided walk in Lochaber Geopark is to be held to a geological feature which inspired Victorian scientist Charles Darwin.
The Parallel Roads in Glen Roy, which forms part of Lochaber Geopark, are shorelines of ancient lakes.
Darwin spent five days in the glen and said the experience surpassed an earlier expedition to Cordillera in Chile.
Lochaber Geopark is holding the walk in June during the European Geopark Festival and again in July.
The lakes in Glen Roy were dammed by ice. It has been suggested that the build up of ice was triggered by a falling comet.
Darwin, whose birth 200 years ago is being marked in a series of national events, wrote of his trip to the area in 1838: "I wandered over the mountains in all directions and examined that most extraordinary district.
"I think without any exception, not even the first volcanic island, the first elevated beach, or the passage of the Cordillera, was so interesting to me, as this week. It is far the most remarkable area I ever examined."