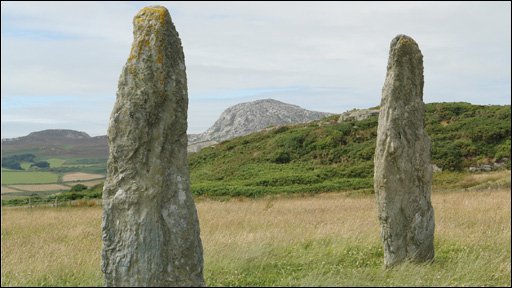 The Isle of Anglesey's "unique and fantastic geology" is set to give the local economy a much needed boost.
The Isle of Anglesey has been awarded European GeoPark status. It's now hoped that the Island's important, diverse and spectacular geology will attract 'geo-tourists" from across the world and further develop the Island's fantastic potential as a key "Eco-Tourism" area to visit and holiday.
The Geodiversity Partnership, GeoMôn - which includes the Isle of Anglesey County Council, Countryside Council for Wales, Menter Môn, and the Gwynedd and Môn RIGS Group (Regionally Important Geological Sites) - is delighted with the news.
GeoMôn's Dr Margaret Wood said, "With rock formations spanning 700 million years, Anglesey boasts more than 100 rock types, in a variety of shapes and colours, which have fashioned our diverse flora and fauna.
"The Isle of Anglesey has some of the most important, diverse and spectacular geology in Britain, if not the world. We boast a wealth of important geological sites, including South Stack, Holyhead's Breakwater Park, Cemaes, Mynydd Parys, Newborough and Llanddwyn."
She added, "This status will now allow us to bid for European funding streams in order to develop a number of exciting geology-based projects on the Island."
GeoMôn recently completed one of the vital conditions for status approval by becoming a company limited by guarantee. This was achieved by working in partnership with the County Council's Economic Development Unit and the Assembly-funded Wales Co-operative. It has also completed a new business plan with Council officers.
Economic Development portfolio holder, Councillor Bryan Owen, explained, "We're committed to the GeoMôn partnership and it's great to see many years of hard work finally paying off. The Island's geological heritage will now be promoted worldwide by the European Geoparks Network and will undoubtedly provide us with an economic boost in terms of geo-tourism."
Council Deputy Leader and Environment portfolio holder, Cllr Bob Parry OBE, added, "This is excellent news for Anglesey. Geopark status fits in well with our promotion of the Island as a place with a stunning, unspoilt natural environment.
"We have so much to offer in terms of geology and with the support of the European Geopark network we now have the potential to develop an added dimension to Anglesey's rich tourism product
For further information on GeoMôn, visit www.geomon.org.uk