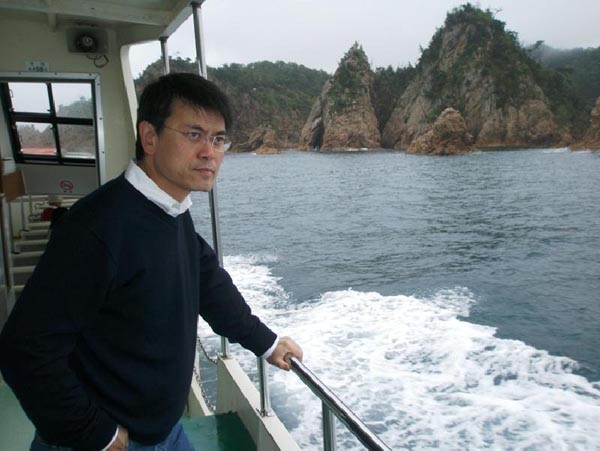 The Secretary for the Environment, Mr Edward Yau today (April 25) visited the San'in Coast Geopark in Japan and met with the Tottori Prefecture management authority to better prepare for the setting up of the Hong Kong Geopark.

"Like Hong Kong, Japan has rich geological features, and it set up a Japan Geopark Network in December 2007. The visit has enabled us to gain experience and prepare our submission to the Ministry of Lands and Resources for acquiring the national geopark status at the end of this year," Mr Yau said.

"The visit is very fruitful as the San'in Coast Geopark provides important references for us. Through exchanging views with the Tottori Prefecture management authority, we have better ideas of how Japan manages a geopark, the operation of their boat tours, as well as the framework to conserve the geological features," he said.

Situated on the shoreline along the Japan Sea stretching from Tottori, Hyogo to Kyoto prefectures, the San'in Coast Geopark straddles nine administrative units, covering a total area of more than 8,800 hectares.

In December 2008, the San'in Coast Geopark became one of the seven national geoparks in Japan. Preparation is also being made for it to be listed as a UNESCO global geopark.

The San'in Coast Geopark boasts rich geological features. It has a complicated saw-toothed coastline with features including cave, sea arches and sea stacks. It also has distinguished basaltic columns, and is famous for its coastal sand dunes. It also showcases rocks from a great range of geological ages, a true outdoor geological museum for science popularisation.

The San'in Coast Geopark is set up not only for the conservation of the geological features. It also strives to popularise earth science by setting up a number of visitor centres and museums to display the park's geological and marine resources. Boat tours are also organised and geo-tourism thrives, and the local economy, especially the agriculture and fishery industry, is revitalised.