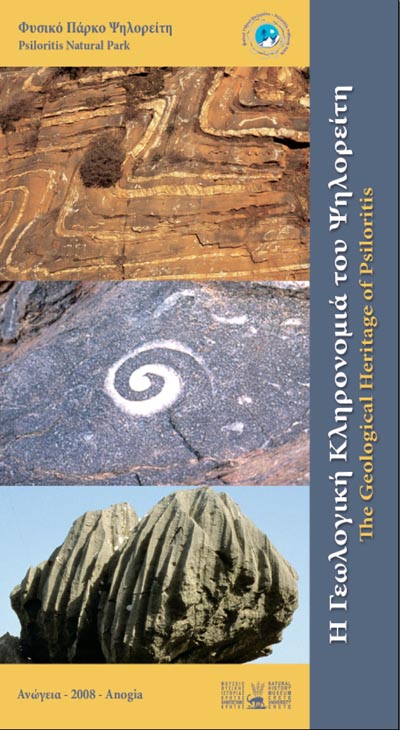 A brand new bilingual (Greek-English) Field Guide for Psiloritis Natural Park, European and Global Geopark, titled "The Geological Heritage of Psiloritis" has recently been published. The guide covers 150 full colored pages with maps, pictures, itineraries and information on the Psiloritis Geopark. It presents information on the environment, culture and geology of the geopark, describes individual geotopes and carries maps with all geotopes and other natural sites in order to facilitate the visitor of the Park to wander around and get known not only with rocks, but also with its people and culture:
"…The collision of lithospheric plates, as if on the anvil, carved out the mountains, raised them to the heavens, and dug them out until their very "heart".
Psiloritis offers the best example. The changes in the stone, their variety, the combinations, the shapes of the rocks, the wildness of the ravines, the echo of the gorges, the labyrinths of the caves have created the geodiversity of this mountain.
And later came life itself, and it settled, and followed the heaving of the Earth, the changes of the mountains and indeed it changed with them. It created unique forms, rare and outstanding ones. Man then followed, last and perhaps a little late, to a "paradise" which had been ready for some time. The wonder, the ecstasy, the worship was to follow, engraved in their culture, and shown in their work
Every little cave became a fount, peak sanctuary, chapel and holy place. The caves and the plains were birthplaces of the gods and of its saints. Every ravine, valley or rock, was a piece of its character, of its life and of its art. With the stone they built their houses, their workshops, managed the land, the footpaths, the pasturages.
This wealth of the Land they still sing in their songs…"