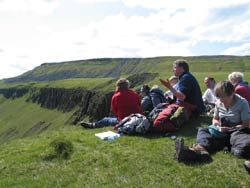 Walkers enjoy lunch at High Cup Nick during a Northern Rocks themed walk

Northern Rocks 2009 runs between Saturday 23 May and Sunday 7 June. The two weeks are full of almost 40 events and activities to help you discover the geological secrets of the North Pennines AONB and UNESCO European Geopark
Northern Rocks 2009 is the sixth North Pennines Festival of Geology and Landscape.
European Geoparks Week
The festival celebrates the world-class geology of the North Pennines. It coincides with European Geoparks Week, an annual summer celebration aimed at promoting the geology and landscape of the 34 UNESCO European Geoparks. European Geoparks are regions with outstanding geological heritage where this is being used to support sustainable development. European Geoparks are part of a wider network of UNESCO Global Geoparks.
Events for everyone
Join a themed walk and see the North Pennines through fresh eyes; sign up for a geological short break; 'touch the rock' with a qualified climbing instructor; explore old lead mines with expert guides; have a go at dry stone walling; and try your hand at watercolour painting.
Find out more
Call 01388 528801 or email info@northpenninesaonb.org.uk to request a copy of the programme.