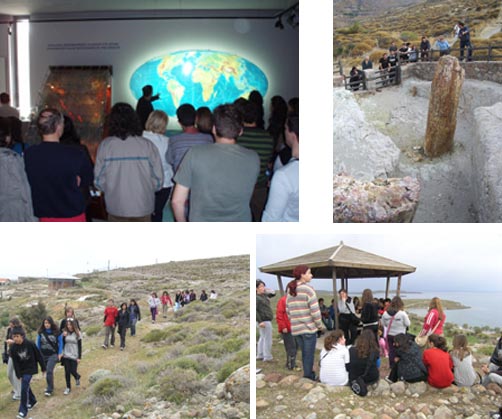 For one more year, the Lesvos Petrified Forest Geopark is promising a very exciting fortnight between the 23rd May and 7th June. A large variety of activities has been scheduled for this period:
guided tours and walks in selected parts of the Geopark rich in geological and cultural monuments,
documentaries and public lectures by experts about the Lesvos Petrified Forest and other topics related with geology, nature and evolution,
educational programmes on conservation, the fossils and rocks of Lesvos, but also on earthquakes and the seismic hazard in the Aegean,
exhibition with informative and photographic material from the members of the European Geoparks Network,
first public presentations of the coffee-table book "European Geoparks" and of the new interactive educational application "Lesvos Petrified Forest".
The programme addresses to people of all ages and interests and is expected to attract the attention of many individuals, families and schools from the island of Lesvos, but also tourists, while there will be full coverage of the activities by the local media. Around 10 school-groups, tallying more than 300 children in total, have already expressed their interest in participating in the scheduled activities.
This fortnight will be organised in the framework of the celebration of the European Geoparks Week, an event running simultaneously every year since 2005 in all members of the EGN. Through the establishment of this 2-week event the Network aims to attracting the public's attention on nature, geology and geodiversity. The activities organised by each member of the EGN is a unique opportunity for locals to develop stronger links with their heritage and focus towards its conservation, protection, but also utilisation for educational and developmental purposes. At the same time, this event is a great occasion for locals (and also staff members) of each Geopark to get to know the other members of the Network better, a process that can make the connections among the members even stronger.