Source :
http://www.globalgeopark.org Source:North Pennines AONB geopark
Published :
June 17, 2009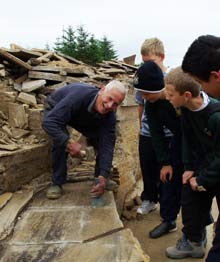 John Davison splitting stone layers


Children from Hexham Middle School went on the trail of the story of stone as part of the North Pennines AONB Partnership's Northern Rocks Festival of Geology and Landscape (23 May - 7 June 2009)
Ladycross Quarry
The 44 Year 7 children started their day at Ladycross Quarry near Slaley, where North Pennines AONB Partnership Geologist Dr Elizabeth Pickett explained how the sandstone had been laid down more than 300 million years ago, formed from sand deposited as thin, level layers in vast river deltas. Quarry Manager and Owner Robin Turner said these flat slabs of sandstone were now quarried by hand to supply paving stones, roofing slates and cladding for some of the finest buildings in the country. Ian Hancock of the Friends of Ladycross Quarry was also on hand to tell the children about the work that had taken place to encourage wildlife such as birds, butterflies and dragonflies to make their homes on the site.
Hike to the Engine House
Then the 11- and 12-year-olds set off on a 2.5-mile hike down to Blanchland, taking the route of an ancient drove road past Pennypie House and Shildon Engine House, where the North Pennines AONB Partnership's Community Interpretation Officer Abi Wylde described how lead mining families would have lived and worked at Shildon 150 years ago.
On to Blanchland
Finally at Blanchland, the children saw the rooftops that had been constructed using stone from Ladycross Quarry around 250 years ago, and Blanchland vicar Jim Lynch explained how monks had settled there centuries earlier and the shape of the village was based on the abbey they had founded.
An invaluable event
Teacher Jacqui Cameron said the event had been invaluable in enabling the children to see at first hand how rock formed millions of years ago had influenced people's lives and the landscapes around them.
"It really helps the children put science, geography and history into context when they can see the stone being quarried, actually hold the fossils and minerals, and hear the stories of the buildings and how children their age lived in generations gone by."
Elizabeth Pickett said: "As well as being an enjoyable day out where they looked at different aspects of local life, the children can begin to make the connections between geology, industrial heritage and today's communities and landscapes."