Source :
http://www.globalgeopark.org  Source: North Pennines AONB Geopark
Published :
July 14, 2009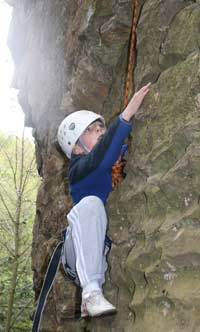 A Darlington youngster enjoying a challenging climb

A group of Darlington youngsters has been getting a taste for adventure in the outdoors in a series of exciting challenges set by the North Pennines Area of Outstanding Natural Beauty (AONB) Partnership.
LEAP
LEAP - Learning and Excitement Across the North Pennines - is an eight-session activity programme for young people of mixed abilities and from a range of social backgrounds.
Run in partnership with Darlington Education Village's Outdoor Education department, LEAP is part of the North Pennines AONB Partnership's three-year Living North Pennines project, funded with nearly £2m of Heritage Lottery Fund (HLF).
Outdoor activities
LEAP is part of Learning in the North Pennines, one of six strands to the Living North Pennines project which aims to get children and young people out of the classroom and into the North Pennines to explore the diverse range of outdoor activities on offer in the AONB.
Activities over the eight weekly sessions for the18 young people aged between 11 and 17 have included gorge walking, canoeing, climbing and abseiling.
Challenging and inspiring
The Partnership's Education Officer, Emma Boor said: "It's been an extremely enjoyable series of days out for the young people - but not always easy for them. By taking part in these physically challenging activities the youngsters learn about both self-reliance and working together as a team, and they gain a huge amount of confidence when they realise they are capable of so much."
Richard Bulmer of Darlington Education Village said: "Outdoor education provides an enjoyable, rich learning opportunity by placing students in surroundings and circumstances which are challenging and inspiring - and often unpredictable. While building on knowledge, skills and positive attitudes, learning in the outdoors also develops respect for self, others and the environment."
Excellent outdoor resource
Ivor Crowther, Head of the Heritage Lottery Fund in the North East said:
"Programmes like LEAP are great way to get young people out into our beautiful countryside and learn about why it is so important to sustain these wonderful landscapes. It gives them the chance to make friends, be challenged and have fun. HLF is dedicated to funding projects such as these and by working with AONB and taking part in these sessions the young people can leave with tangible skills and experiences to use in the future."
The youngsters' experiences have been filmed to make a video which will promote the North Pennines as an excellent outdoor resource to other teachers.