Source :
http://www.globalgeopark.org
Published :
July 22, 2009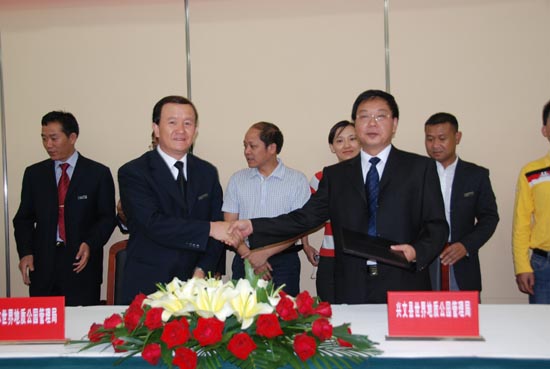 Pic.: Li Zhengping (second from left) and Qi Ming (second from right) are signing the twinning agreement
From June 15 to 16, the delegation from Xingwen Geopark had an investigation and communication in Stone Forest Geopark in Yunnan Province under the leadership of Qi Ming who was the director general of Xingwen Geopark Administration. Additionally, a twinning agreement was concluded between these two geoparks.
On June 15, a special symposium was held between the delegation and the officials concerned from Yunnan Stone Forest Geopark Administration, where Li Zhengping, the director general of Stone Forest Geopark Administration, introduced the basic condition, interior management, geopark planning, development status, revaluation and other matters in detail. Furthermore, two parties discussed their cooperation in such fields as geoscientific research, scenic area planning, marketing operation and personnel exchange. The delegation saw into the development, construction, marketing, last revaluation and other things related to Stone Forest Geopark.
In the morning of June 16, Qi Ming and Li Zhengping signed the twinning agreement on behalf of these two geoparks respectively in the meeting room of Yunnan Stone Forest Tourist Center. In the afternoon, the delegation inspected the geomuseum, information monitoring system and other construction achievements in Stone Forest Geopark.
Stone Forest Geopark and Xingwen Geopark have many similarities in some aspects including geological formation and structure, so signing the twinning agreement is quite beneficial to their mutual learning and common development.