Source :
http://www.globalgeopark.org Source:www.info.gov.hk
Published :
August 12, 2009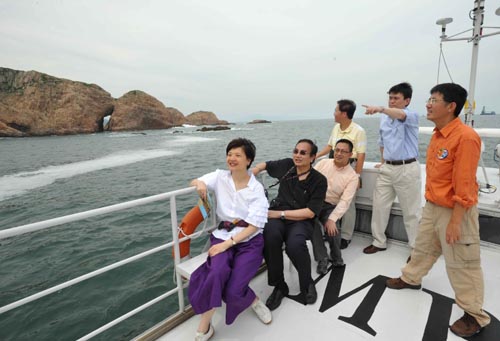 The Secretary for the Environment Mr Edward Yau, Legislative Council (Legco) members Ms Audrey Eu Yuet-mee, Prof Patrick Lau Sau-shing, Mr Chan Kin-por and Mr Ip Wai-ming today (Tuesday, July 14) visited two geo-sites of the proposed Hong Kong Geopark - Sharp Island and High Island.

Mr Yau introduced to the Legco members the areas to be covered in the proposed geopark, as well as the geo-features that could be found in these areas. The visit enabled the Legco members to learn more about the geopark proposal, but they were also able to appreciate the magnificent geo-features at close proximity and gain a better understanding of the importance of geo-conservation.

"Through this visit, we briefed members on the Government's plan on how to manage the geopark, and the series of works the Government are undertaking to protect, publicise and educate members of the public on the geopark," Mr Yau said.

Hong Kong boasts rich and unique geological features. To enhance geo-conservation in Hong Kong, the Government is planning to set up Hong Kong Geopark. The eight sites selected to form the geopark are located in northeast New Territories and Sai Kung district. These sites have outstanding geo-features, which are unique and representative both regionally and internationally.

To enhance geo-conservation, the Government is planning, in the second half of this year, to apply to the Ministry of Lands and Resources for national geopark status.

Near Sai Kung downtown, Sharp Island is covered with various volcanic rocks including rhyloite, volcanic breccias and monzonite. This place also showcases the caldera boundary that existed in Sai Kung more than 100 million years ago.

Between Sharp Island and High Island is a dense area of hexagonal columns, which are estimated to cover more than 100 square kilometres. The scale of this group of hexagonal columns in Sai Kung is the largest known in the world today. While hexagonal volcanic rock columns in other regions of the world are usually basic basaltic lava, the hexagonal columns in Sai Kung are acidic silica-rich rhyolitic tuff. This extraordinary composition makes the geo-features in Sai Kung special and rare. Near High Island Reservoir, visitors can see these hexagonal columns at close range.

Besides their geo-features, High Island and High Island Reservoir are also well-known scenic spots in Sai Kung. The three highest sea arches in Hong Kong, which are formed by the long lasting attack on their faults by relentless waves and wind, are located at Wang Chau, Basalt Island and Jin Island. Separately, the neat hexagonal columns of Po Pin Chau are as tall as 50 metres, and because it resembles the musical instrument, it is also named "the Organ Wall".