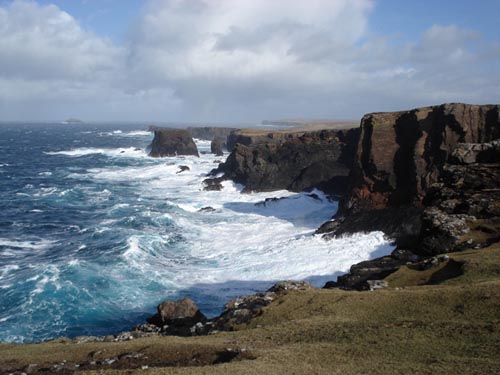 It was announced on 15 September 2009 that Geopark Shetland has been welcomed as a member of the European Geoparks Network (EGN). Following a successful visit to the isles by two assessors in May, Shetland's application was considered by members of the EGN Coordination Committee at the annual EGN conference, where Shetland's Geopark status was announced.
Representatives of Geopark Shetland, who are at Naturtejo Geopark in Portugal for the conference, were delighted with the news. Jimmy Moncrieff, General Manager of the Shetland Amenity Trust, said: "We are absolutely delighted to receive this recognition for Shetland. Gaining Geopark status will not only raise the profile of our incredible geology on an international level but also create many new opportunities for the Isles."
The Trust, along with a multi-agency working group, has developed many initiatives to promote Shetland's unique geology, including geological exhibits, trails, interpretive panels, workshops, talks and lectures. Robina Barton, Shetland Amenity Trust Geology Project Officer, explains more: "Geology was one of the few aspects of our natural heritage which had not been highlighted and we sought to rectify this with our projects. Through interpreting our incredible geology, and using this as an economic driver for the isles, we are carrying out the work required for European Geopark status, which is a fantastic bonus."
A Geopark is an area that has outstanding geological heritage, and is using that heritage to provide sustainable economic benefits to the area.
The aims of Geopark Shetland are to:
Conserve Shetland's rich geological heritage and demonstrate its clear links with natural and cultural heritage.
Raise awareness and increase understanding of Shetland's geological heritage.
Enhance the image of Shetland and promote sustainable development linked to geological heritage and Geotourism.
Shetland is packed with an incredibly varied geology spanning almost 3 billion years. It has the most amazing diversity of landscape in an area its size anywhere, all due to its astonishing variety of rocks. These rocks tell an amazing tale, not just about Shetland, but how the world itself has formed and changed. Here you can discover oceans opening and closing, mountains forming and eroding, tropical seas, volcanoes, deserts, ice ages and ancient rivers! This geology has also created a home for a world famous biodiversity and influenced the fascinating cultural heritage of the isles.
Although less than nine years old, the EGN has made great advances in achieving its aims and is attracting increasing attention from communities across Europe as well as the wider geological community. Being a member of the EGN will help Shetland bring its astonishing earth heritage to a global stage and provide opportunities to share ideas and expertise, and to work with European partners on joint projects.
For further information on Geopark Shetland, including a background to Shetland's Geopark bid and details of previous projects, log onto: www.geoparkshetland.org.uk .