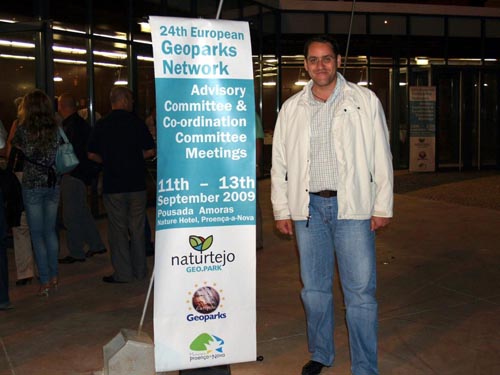 The President of the Park, Mr Kefalogiannis and pictures from the EGN meeting and the Naturtejo Geopark




During the 24th Meeting of the European Geoparks Network (EGN) that was held in Naturtejo Geopark, Portugal, from 11th to 13th September, Psiloritis Natural Park was successfully re-evaluated to continue its membership for the next four years in the European Geoparks Network. Simultaneously, the Park has been successfully reevaluated for its membership in the Global Geoparks Network of UNESCO, also for the next four years and thus Psiloritis is together with Samaria the second territory listed in UNESCO's lists.
The President and the vice president of the Management Committee of the Park Mr Sokratis Kefalogiannis and Charalampos Fassoulas, respectively, as well as Mrs Christina Fassoula participated as representatives of the Park in the works of the meeting.
Since 2001 Psiloritis Natural Park is the 5th member of the EGN, which now is comprised by 35 member allover Europe. All geoparks are evaluated every four years for their membership in the network under certain and very strict criteria. Specialists of the Network, but also from International organizations like UNESCO, International Union of Conservation of Nature (IUCN) and International Union of Geosciences (IUGS) participate in this evaluation process.
After the EGN meeting, the 8th International Congress of the EGN took place in Idanha Nova of Naturtejo geopark, where the recent achievements of Psiloritis were presented.