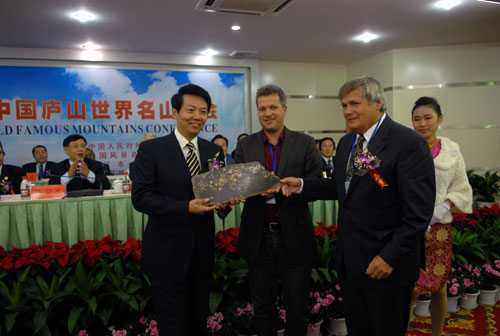 The World Famous Mountain Association was formed on Oct 14, with its headquaters in Mount Lushan, Jiangxi Province at the First World Famous Mountain conference here.

Disclosing this at the closing ceremony of the two-day conference, association vice-chairman Zheng Xiang said representatives of 12 famous mountains worldwide had unanimously agreed to form the association at the conference.

The mountains are Mt Lushan of China, Mt Taishan (China), Hood Mountain (USA), Mt Gambier (Australia), Eisenwurzen Geo Park (Austria), Araripe Geopark (Brazil), Bergstasse Odenwald Global Geopark (Germany), Mt Chocolate (Philippines), Mt Covasna (Romania), Mt Gaina (Romania), Mt Table (South Africa) and Mt Kilimanjaro (Tanzania).

Zheng described the association as friendly, non-governmental and non-profit.

"We believe the founding of the World Famous Mountain Association would accelerate developement and progress of famous mountains and contribute to world harmony.

"Representatives of famous mountains of the world are invited to join the association to promote friendship, culture, tourism and environmental protection.

Themed 'Friendship, Cooperation and Development', the conference focused on protecting and developing world famous mountains.