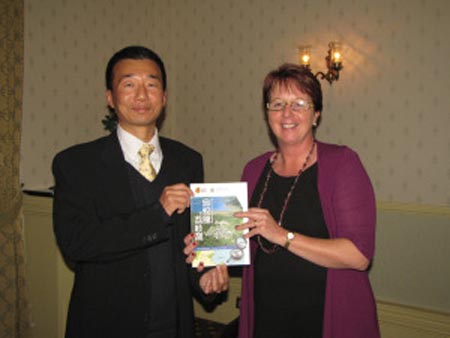 A trip taking in Torbay's greenest attractions has helped cement a new partnership between the resort and Hong Kong.
Two experts from Hong Kong came to Torbay to see for themselves the highlights of the English Riviera Global Geopark and to learn how the designation can be used to develop the new Hong Kong National Geopark.
Joseph Sham, director of the Hong Kong Geopark, and Tze-wai Tam, geopark officer, came to the English Riviera on a fact-finding and relationship-building mission following the signing at the Hong Kong Geopark launch in November of the document pledging mutual support.
The delegates were received by English Riviera Geopark coordinator Mel Border, Torbay Council chief executive Elizabeth Raikes, tourism strategy project manager Carolyn Custerson, English Riviera Geopark Organisation chairman Nick Powe, and Nigel Smallbones, from the Torbay Coast and Countryside Trust.
The Hong Kong delegates stayed at the Palace Hotel in Torquay and were treated to a packed itinerary including visits to Cockington to discuss the Seachange developments, Occombe Farm, the Seashore Centre, Berry Head and Kents Cavern.
There was also a trip out to sea aboard Torbay Harbour Authority's pilot boat to view the spectacular geology of the coastline, thanks to Brixham Harbour Master Paul Labistour. Promotion of geo-conservation, communication of best practice, exchange of scientific information, including expertise in the sustainable development of geological resources, and collaboration in research, education, staff training and programme development are just some of the objectives of the mutual arrangement between the English Riviera Geopark and its partners in Hong Kong.
Mel Border said: "Worldwide conservation body UNESCO sees agreements of this nature as helping to strengthen the Global Geopark Network.
"This level of international cooperation will be viewed very positively when it comes to our Geopark re-validation in 2011."
The partnership was initiated following the Global Geopark Network's recommendation that Hong Kong visit Torbay prior to applying for Geopark status, because of the similarities in the urban environment.
Three other sites also signed up to the agreement with Hong Kong: Itiogawa Geopark in Japan, Kanawinka Geopark in Australia, and Yangdanshan Geopark in China, giving the English Riviera indirect links with all three.
The Sistering Arrangement document between Hong Kong and the English Riviera will officially be presented to the chairman of Torbay Council on December 10 by Mrs Raikes.
She said: "We have much to learn from each other in developing and promoting Geoparks in what are essentially seen as urban areas.
"I look forward to continuing the relationship of mutual support and encouragement."