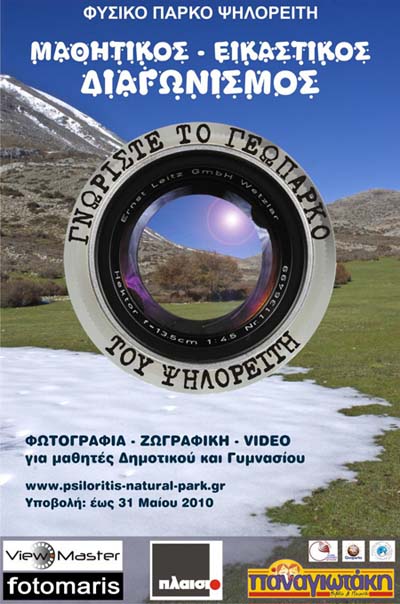 Psiloritis Natural Park organizes an open, pupil's art contest titled "Discover Psiloritis Natural Park".
The contest is addressed to primary and elementary school pupils of Crete and visitors under the topics of digital photographs, video and painting. The themes refer to the animals, plants, rocks, landscape and the scenery in general of Psiloritis Natural Park.
Each participant can submit only one artifact per topic, but can participate in all three topics. In each topic there will be two categories, one for primary school and one for elementary school pupils except the topic of video where only elementary school pupils will participate.
The contest will last from January, 1st 2010 till May 31st 2010 which is the deadline for submission.
In each topic and category the first six artifacts will be awarded with special gifts (like digital camera, digital picure frame and toys) and the most important will be exhibited during the summer events of the park.
Technical specifications
A. Photorgaphs
Photos should be in digital format (jpg or tiff) and should be ready to be printed at 20X25 cm dimension (resolution at least 5Mpixel)
B. Video
Videos should be in any known format (avi, wmf, mp4, mpg, mov etc.) and not longer than 5 min.
C. Painting
Paintings can be in any material (paper, wood etc.), any style (carbon, tempera, oil, collage etc.) and in dimensions between 21X30 and 30X42 cms.
The Natural Park can use submitted artifacts in any non-commercial activity. Submission of artifacts indicates acceptance of all contest rules.
The gifts and further details on the evaluation process will be announced later.
Submission
Artifacts should be submitted to Park's headquarters at the following addresses. It is suggested that submissions should be accompanied by full personal information of contributors and their parent (including corresponding email and phone numbers), the category and topic addressed, as well as the school name.
All personal data will be protected.
Send to:
For the Contest
PSILORITIS NATURAL PARK
AKOMM «Psiloritis" S.A.
Anogeia, 74051 Rethimnon, Crete, Greece
Phone:00302834031402
Email: natpark@psiloritis.eu
www.psiloritis-natural-park.gr
Information:
Mr Patakos, 28340 31402, dimpatakos@gmail.com
Mr Fassoulas, 2810 393277, fassoulas@nhmc.uoc.gr