Source :
Hexigten Global Geopark, China
Published :
June 17, 2013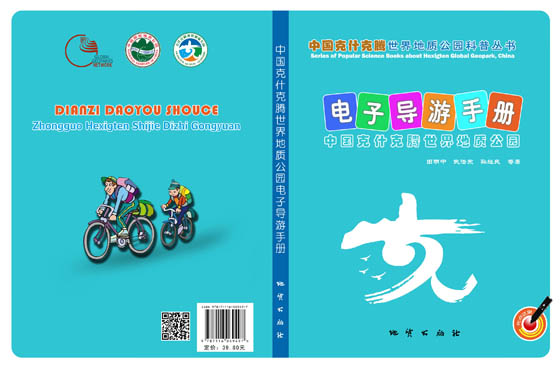 Electronic books and point reading pens are both sound interactive products. The high technology of Million Points Electromagnetic Induction Positioning System and Wireless Sensor Technology has changed the literal books into sound books, which tailors to the needs of customers.
The Electronic Guide Book and Electronic Guide Map of Hexigten Global Geopark, China have been compiled by Professor Tian Mingzhong of China University of Geosciences (Beijing) and Deputy Director Sun Jimin of the Administration for Hexigten Global Geopark, China. They have been published by Geological Publishing House in June 2013.
The Electronic Guide Book and Electronic Guide Map are geopark-related electronic popular science books in Chinese, English and Mongolian with touching maps. Nearly 100 of the most unique geo-sites with trilingual explanations and beautiful photographs are covered in the book. The QR code technology has been firstly adopted in this book, by scanning which readers can enter the official website of Hexigten Global Geopark and get to know more about the geopark.
The compilation and publication of these popular science books has stretched for one year, and the unprecedented sound popular science book is a bold attempt by Hexigten Global Geopark. It helps promote the geopark to popularize the geoscience knowledge with a lively form. The compilation and commentary in three languages are suitable for domestic and foreign tourists with high practicality.