The spinal column of Geopark Chablais, the "GeoRoute", is currently being installed. The objectives of this wide reaching structural project are to understand the history of the formation of the Alps, to change our appreciation of the landscape and to become responsible ambassadors for the local riches.
The 23 geosites are emblematic, independent and complementary and are classed as Sensitive Natural Spaces (ENS) by the ConseilGénéral of the Haute-Savoie. Their presentation and promotion reveals not only the geological history of a place but other themes such as cultural heritage, history, fauna, flora etc.
The installation of more than 180 interpretation panels and outdoor furniture began in June 2013 and will be completed for the end of the year.
Carte de la géoroute
Eleven geosites will be prepared and equipped during the summer : the Reyvrozviewpoint, the Tréchauffé viewpoint, Vallon Lake, Lake Montriond, Ecoles Lake, the Castles of Allinges, Plagnes Lake, Col de Bassachaux, the Champeillant viewpoint, Maravant Marsh and Pierre à Martin. A virtual presentation of the Armoy Plasterworks will also be available on line.
The other geosites will be completed for the end of the year : Ripaille Castle, Mont Bénand, the Pré Richard viewpoint, Chilly Marsh, the ski lifts of Avoriaz, the mines of Lake Or and Bostan, the Drunken Forest, the Cornettes de Bise, the Vouas of Lyaud, the Morzine slate mines and the Pont du Diable Gorges.
From the autumn you will be able to discover the diversity of the equipped sites through the internet and prepare your "personalised" visit using the criteria within the search engine (theme, nature of the site, duration of the visit, etc …).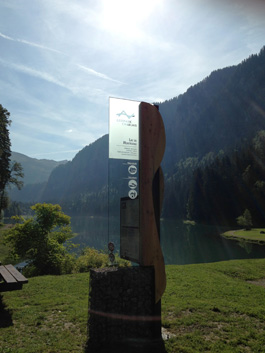 (Left)The information panel at Lake Montriond (Right)The information panel at Lake Vallon
This project is financed by the SIAC, local stakeholders and relevant municipalities, as well as through Departmental, Regional and European funds.